This Pakistani doctor was wounded by a police officer after he was denied sleeping medication, police say
Two photos have been shared thousands of times in multiple posts on Facebook alongside a claim they show a Pakistani doctor who was attacked by the family of a heart patient who died after being misdiagnosed with COVID-19. The claim is misleading; the doctor was wounded at a Karachi hospital by a police officer after he was denied sleeping medications, according to police and the hospital.
The photos were published in this Facebook post on June 22, 2020. It has been shared more than 2,900 times.
The photo on the left shows blood splattered on the floor, and the one on the right shows a man being treated by people who appear to be medical workers.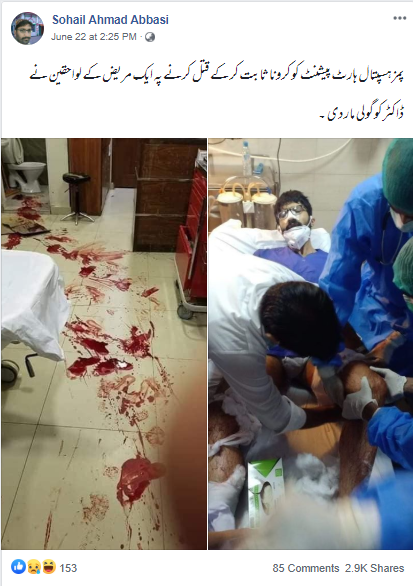 A screenshot taken on July 1, 2020, of the misleading post
The post's Urdu-language caption translates to English as: "At PIMS hospital, relatives of a patient shot a doctor after he murdered him by misdiagnosing a heart patient as a coronavirus patient."
PIMS, or the Islamabad-based Pakistan Institute of Medical Sciences, has allocated hundreds of beds for COVID-19 patients, according to this June 30 report from Pakistani newspaper Dawn. 
The photos have also been shared alongside a similar claim on Facebook here, here, here and here.
The claim is misleading.
A reverse image search on Google found the photo on the right published in this June 18, 2020, report by Pakistani newspaper Daily Pakistan alongside the headline: "Doctor wounded after policeman opens fire inside Karachi hospital". 
The report states in part: "A police officer opened fire in emergency ward of the National Institute of Cardiovascular Diseases (NICVD), leaving one doctor injured on Wednesday night.
"The cop has been identified as Kamran alias Kami, who is a CTD official deputed in Civil Lines. A police officer said that the suspect is mentally ill.
"The injured person, Dr Fahad, sustained two bullet wounds in his legs and was shifted to Jinnah Postgraduate Medical Hospital (JPMC). He is said to be in stable condition."
A screenshot taken on July 1, 2020, of the Daily Pakistan report
The incident was also reported here by Dawn and  here and here by Pakistani broadcasters Geo TV and Samaa TV.  
Professor Nadeem Qamar, executive director of National Institute of Cardiovascular Health (NICVD), condemned the attack in a statement posted to Twitter here on June 19. 
Executive Director of #NICVD strongly condemns the act of firing on Dr. Fahad Abdul Hussain. pic.twitter.com/71YRi3dWG7

— NICVD (@nicvd_karachi) June 19, 2020
"I strongly condemn the act of firing on our beloved Dr Fahad Abudl Hussain by a lunatic police officer," the statement reads.
In a telephone conversation with AFP on June 26, NICVD's Dr. Malik Hameedullah Khan added that Dr. Fahad, who was wounded, happened to be on duty when the attack took place. The doctor who denied the officer with sleeping medications was Dr. Prakash, which corresponds with the Daily Pakistan report.
"The incident took place about two weeks ago. A policeman of a counter terrorism department visited the hospital with the complaint of sleeplessness anxiety and other such issues. The doctors on duty examined him and found no sign of any cardiac disease and cleared him off. But the policeman insisted on dispensing him with some sedative medicine or injection. The doctors convinced him that there was no such need and he must be thankful that he had no disease and was doing fine," Dr. Khan said. "The next day he came and asked about Dr Prakash with whom he had an argument the previous day. When told by staff that Dr Prakash was not on duty, the policeman pulled a pistol and fired upon Dr Fahad, who was on duty. The Dr sustained two bullets on his foot. He is out of danger now." 
In addition, Karachi's senior police official Raja Umar Khatab provided a statement to AFP on June 26 about the police officer accused of the shooting, saying: "Police has arrested the accused and charged him with attempted murder in the First Information Report." 
AFP could not independently verify the second photo of a blood splattered floor.