Non-medical masks can offer some protection against Covid-19, scientists say
As Covid-19 cases surge in Thailand, claims that non-medical masks are ineffective in preventing the spread of the disease are circulating online. This is misleading: scientists told AFP that these masks offer some form of protection. The US Centers for Disease Control and Prevention (CDC) and World Health Organization (WHO) recommend non-medical or fabric masks for the general public.
This claim was posted here on Facebook on January 4, 2021.
"Non medical mask = masks that are not designated for medical use = cannot be used for disease prevention," the Thai-language caption reads.
"Medical mask = sanitary masks that are for medical use = can be used for disease prevention, high performance.
"As for the Covid outbreak at the moment, if you keep social distance you can use non-medical masks. But if you enter high risk areas or crowded areas you must use medical masks".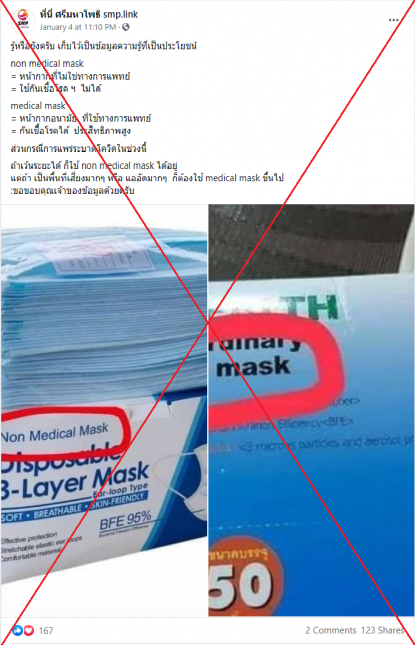 Screenshot of misleading Facebook post, taken on January 7, 2021
The post contains two photos of a box of disposable masks with a red circle around the text "Non Medical Mask".
Thailand suffered a new wave of Covid-19 cases after an outbreak at a seafood market last month, with infections detected in 53 of the kingdom's 77 provinces.
A similar claim circulated on Facebook here, here and here.
The claim, however, is misleading.
Mask types
The masks in the photo circulating online are non-medical masks. These single-use, disposal masks are recommended for use by the general public and are widely available in stores. These are not the same as surgical masks and N-95 respirators, which should be reserved for healthcare workers, according to the Centers for Disease Control and Prevention (CDC).
Fabric masks made from breathable material like cotton are also recommended for use by the general public. According to the CDC, "cloth masks not only effectively block most large droplets (i.e., 20-30 microns and larger) but they can also block the exhalation of fine droplets and particles (also often referred to as aerosols) smaller than 10 microns."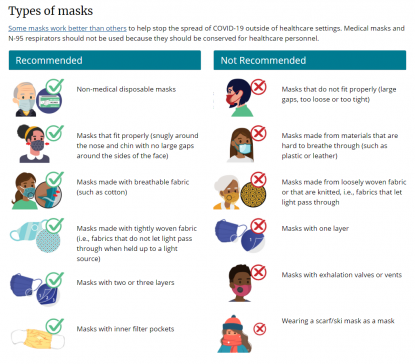 Infographic on the different types of masks by the CDC
According to the World Health Organization (WHO), medical masks are surgical or procedure masks that are flat or pleated; they are affixed to the head with straps that go around the ears or head or both. Medical masks are rectangular in shape and comprise three or four layers. Each layer consists of fine to very fine fibres. These masks are tested for their ability to block droplets and particles.
On the contrary, non-medical masks or fabric masks are made from a variety of woven and non-woven fabrics, such as polypropylene. Non-medical masks may be made of different combinations of fabrics, layering sequences and available in diverse shapes.
'No guarantee'
Yong Poovorawan, professor of pediatrics at Chulalongkorn University in Bangkok told AFP that non-surgical masks "can be used to protect against viruses", although "surgical masks perform better in protection and prevention of diseases".
"You can try dripping a drop of water [on a surgical mask] and you can see that nothing is seeping through. However, there is no mask that can guarantee 100%," he said in an interview on January 7, 2021.
"The best [prevention] method is to wash your hands and maintain social distancing."
Theerawat Hemachuta, professor from the Faculty of Medicine at the same university said fabric masks offer some protection against coronavirus infection
"We must first understand that these viruses are generally transmitted through aerosol particles, like when we speak or cough. These aerosol particles are large enough to be caught on the fabric of the masks," he said in an interview on January 8, 2021.
"No mask can offer 100% protection, even the surgical masks. But even non-medical masks do offer some form of protection to the general public and should not be dismissed as ineffective."
A report published in July by researchers from the University of Pennsylvania and University of Cambridge said that "evidence continues to accrue that masks, including cloth masks, prevent onward transmission of infection".
The CDC's website has more guidance on what kind of masks you should wear.