No, these videos do not show Indian, Pakistani warplanes in Kashmir
Videos which have been viewed hundreds of thousands of times on Facebook and YouTube and published by mainstream media in both India and Pakistan show military jets flying at night and dropping what appear to be bombs. Indian social media posts and television channels claim the videos show Indian fighter jets carrying out strikes in Pakistan; Pakistani Facebook posts and newspapers say the footage shows Pakistani jets chasing Indian military planes out of their airspace. All the claims are false; the videos are actually from a 2014 demonstration by the Pakistani Air Force for Independence Day celebrations in Islamabad.
The first misleading video shows what appears to be an F-16 jet flying through the night sky and firing what could be bombs or flares into the darkness.
It can be seen in this February 26, 2019 Facebook post from a Pakistani account, where it has a caption saying: "Video has surfaced!! Look at how the Indian jets dropped their payloads and ran away from PAF JETS! #PAKISTAN #INDIA #WAR #KASHMIR #PULWAMAATTACK."
Pakistani's mainstream Urdu-language newspaper, Nawa-i-Waqt, posted the video on their Facebook page here, where it had been viewed more than 17,000 times in the six hours since it was published.
Screenshot of misleading Facebook post
The post's caption says: "Immediate and timely flights by Pakistan air force planes. Indian planes ran away: DG ISPR (Director General Inter Services Public Relations)" referring to a military spokesman.
The exact same video was posted on an Indian Facebook account here alongside claims it showed the Indian Air Force.
The caption says: "Indian Airforce bombarded Balakot and destroyed Jaish Launch Pads. Pouring 1000kg of bombs on terror camps. Please see the Surgical Strike 2 video, how Indian Air force Mirage2000 flights striking down the camps. #mirage2000 #Surgicalstrike2 #IndianAirForce."
Screenshot of misleading Facebook post
This video has been posted repeatedly on Facebook in both countries, for example here and here, and also on Twitter here.
India's military has said that its jets carried out airstrikes in Balakot on February 26, 2019, hitting militants camps in retaliation for a suicide attack in Indian Kashmir on February 14, 2019 which left 41 Indian soldiers dead.
Pakistan's military rejects that account and says that after Indian planes intruded into its airspace, it scrambled jets and chased the Indian planes out, saying they dropped their payload harmlessly in Pakistani territory while fleeing.
Here is an AFP story on the February 26, 2019 incident.
A second video which was posted here on Pakistani Facebook page SiasiTV, where it has been viewed more than 20,000 times in the two hours since it was published, contains similar footage of a warplane flying at night.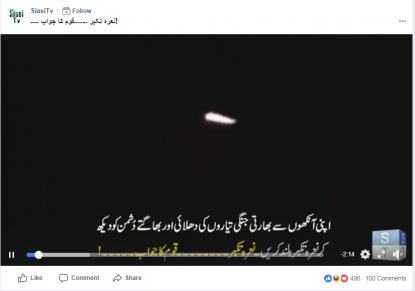 Screenshot of misleading Facebook post
The caption on the post says: "Tonight at 4.00 am Pakistan air force is giving befitting response to Indian air force attack on Muzaffarabad and Balakot sector. Allah-o-Akbar (Allah is the Greatest). See how Pakistan Air Force pounced on the enemy's warplanes for crossing the Line of Control. Raise slogan Allah is the Greatest and see the fleeing enemy and beating up of Indian war preparations with your own eyes. Slogan of Allah is the Greatest...Nation's reply."
The exact same footage was also posted here by an Indian Facebook account, where it has been viewed 36,000 times in the five hours since it was published. The caption says: "Indian Airforce Attacks Pakistan".
An Indian regional television channel from Gujarat, Morbi News, also posted the footage on their YouTube channel. 
A YouTube search found that both the videos shared in all the misleading posts actually show a 2014 air show to mark Pakistan's independence day.
Here is an August 12, 2014 statement by Pakistan Air Force about the night flying demonstration, which happened the night of August 13, 2014.
The statement says: "Two formations of PAF fighter jets will participate in the fly past during the Independence Day ceremony being held at Islamabad. The two formations of 04 F-16s and 04 Mirages combat aircraft are already undertaking fly past rehearsals. To mark this auspicious occasion the fighter jets will also release illuminating flares during night fly past between 13 and 14 August night."
The videos show the night fly past when the fighter jets released flares.
The first video used in the misleading posts was originally published on YouTube on August 14, 2014.
Below is the original video, which is headlined "Pakistan Air Force F-16 Block 52+ dispensing Flares": 
The second video used in the misleading posts shows the same 2014 night flight demonstration from a different angle.
This footage was posted on YouTube on September 23, 2016 with a headline: "Pakistan Airforce Islamabad night flying".