No, these photos do not show Muslims in Sri Lanka who converted to Hinduism after demolishing a mosque
Photos of a mosque being destroyed have been shared on Facebook and Twitter around two months after the 2019 Easter Sunday bomb attacks in Sri Lanka. The posts contain references to Sri Lankan Muslims converting to Hinduism. The photos are being used in a misleading context; they have been taken from news reports about the mosque's destruction that do not mention Hinduism; local police told AFP that "no religious conversions took place".
Multiple posts, for example this one published to Facebook on June 13, 2019, and shared more than 150 times since, contain two photos of a light-blue building being razed by men wearing skullcaps and holding sledgehammers.
The Hindi-language caption translates into English as: "In Sri Lanka, Muslims are themselves destroying a mosque and converting to Hindu religion. Muslims say that they have now understood the reality of abomination and hatred in the religion."
It was published around two months after multiple suicide bombings in Sri Lanka on April 21, 2019, which left more than 250 people dead. Here is an AFP report about the attacks.
Below is a screenshot of the misleading Facebook post: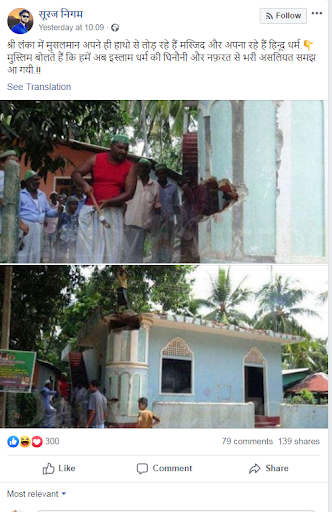 Screenshot of misleading Facebook post
The same photos and claim have been posted elsewhere on Facebook, for example here, and on Twitter, for example here.
A reverse image search on Google found the same photos appeared in this article published May 29, 2019, on the website of Sri Lankan newspaper the Daily Mirror.
The report is headlined "NTJ mosque in Kekirawa demolished by Muslims" and its first paragraph says:
"A mosque used by the National Thawheed Jama'at (NTJ) at Madatugama in Kekirawa was yesterday demolished by the area Muslims and devotees of the main mosque."
Kekirawa is a town in north-central Sri Lanka. National Thowheeth Jama'ath is an extremist group named by Sri Lankan authorities as the perpetrators of the Easter Sunday bombings. Here is an AFP report dated April 27, 2019, which says the NTJ has been banned.
Below is a screenshot of the Daily Mirror report: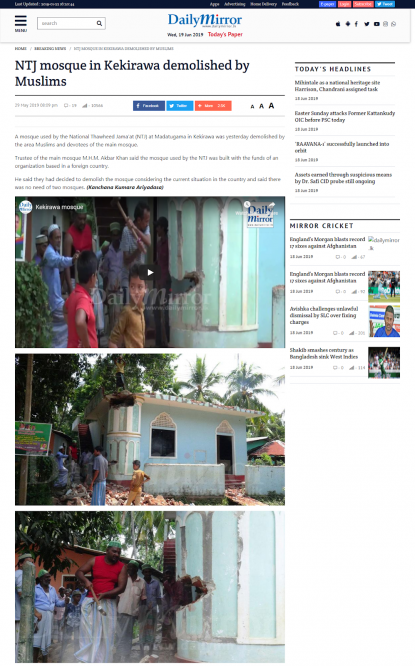 Screenshot of Daily Mirror report
Other local media reported on the mosque's demolition, for example here and here, and the Daily Mirror also published this video of the event on its verified YouTube page.
The media reports do not state that the Muslims involved in destroying the mosque also converted to Hinduism.
Kekirawa Police Officer-In-Charge Thilak Bandara Ganegoda told AFP: "No religious conversions took place."
"The land was previously allocated to construct a children's library and was handed over to its rightful owner", he added.
The mosque's chairman M H M Akbar Khan, who led the movement to tear down the building, also told AFP: "It was not demolished because of any link between that building and the NTJ or because any religious conversion took place."