No, this photo is not of a poor Indian child suffering from cancer
A Facebook post shared thousands of times claims that a poor child in India is suffering from cancer and needs financial help. The post is false; it uses an image published earlier in a local media report about a controversy over the death of a boy that had nothing to do with cancer.
The misleading post published in December 2018 claims to show a child from a poor Indian family who needs money for his cancer treatment.
Below is a screenshot of the post. AFP has blacked out the image of the boy's face to avoid distressing readers because it shows him already dead.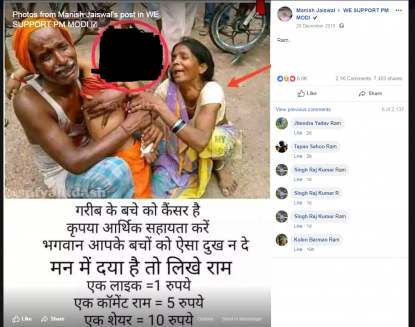 Snapshot of the misleading post
The text underneath the image initially appeals for financial help for the family, but then evokes religion and asks people to react or share the post. 
An English translation of the post is: "Child of a poor man is suffering from cancer, please help them financially, hope God wouldn't give the same grief to your child. If you have pity in your heart, write Ram. 1 like = 1 Indian rupees, 1 comment = 5 Indian rupees, 1 share = 10 Indian rupees."
Ram is the name of a Hindu god. 
A Google reverse image search traced the image used in the false post to this news report in August 2018 about a controversy over the boy's death in a small town in the eastern Indian state of Bihar.
The report shows images of the boy after he had died, and his relatives had reportedly ransacked the hospital in anger.
It states the family of the child claimed the boy died after being injected with a syringe. A doctor from the hospital is quoted as saying the child was dead upon his arrival.
The same controversy was similarly reported without the images in other Hindi news outlets, including here, here and here.
None of the media reports refer to cancer as being a cause of the boy's death.
AFP tracked down the police complaint about the death on the Office of the State Crime Records Bureau's website, which confirms the competing claims from both sides.
The complaints, written in Hindi, can be viewed here and here.
Neither of the police complaints say the boy was suffering from cancer. 
Dr. Dinesh Kumar Singh, who was accused by the family of administering the wrong syringe, told AFP on January 2, 2019, in a phone interview that the boy had died of pneumonia.
"The child was dead upon his arrival and he died due to pneumonia and not because of cancer," Singh said.