No, this photo does not show that former Indian cricketer Anil Kumble has joined India's ruling Bharatiya Janata Party
An image of former Indian cricketer Anil Kumble with Prime Minister Narendra Modi has been shared hundreds of times on Facebook alongside claims the ex-sportsman has joined the ruling Bharatiya Janata Party. The claim is false, the photo is from 2014 and the BJP said Kumble had not joined the party.
The photograph of Modi and Kumble has been shared repeatedly on Facebook in January 2019, for example here, and here with a Bengali-language caption saying: "Indian cricket legend Anil Kumble joined the Bharatiya Janata Party, a nationalist party. . . . . . #India_Trust_ModiJai Hind Jai Sriram… One day the lotus will bloom across India."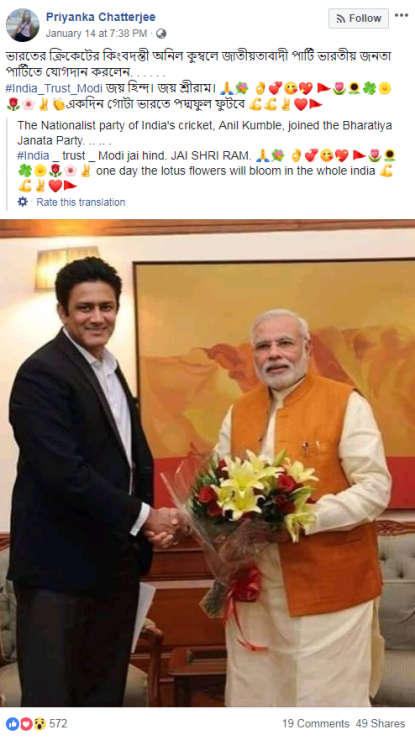 Screenshot of one of the misleading Facebook posts
The photograph in the misleading posts was actually posted on the Indian Prime Minister's official Twitter account in August 2014 after Kumble -- who played on the Indian cricket team for 18 years prior to his retirement in 2008 -- met Modi.
Noted cricketer Anil Kumble met the PM. @narendramodi pic.twitter.com/K00ddpjopB

— PMO India (@PMOIndia) August 1, 2014
BJP official Amit Malviya told AFP that Kumble was not a member of the BJP. 
"No, he has not joined," he said by text message. 
A search on top Indian news websites using the keywords 'Anil Kumble BJP' found no reports of him joining the BJP, for example on Hindustan Times here and The Hindu here.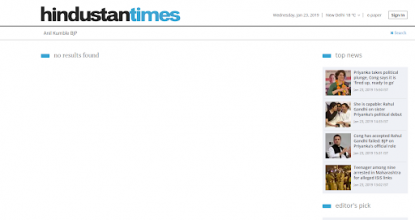 Screenshot of the search result on Hindustan Times
Screenshot of the search result on The Hindu
Kumble has also not posted anything related to him joining any political party on his official Twitter account.