No, this Philippine senator did not fall asleep at a major basketball game
Multiple Facebook posts have shared a photo they claim shows a Philippine opposition senator sleeping at a major basketball game between the nation's top colleges. The claim is false and the image was altered.
Posts such as this and this have shared a photo which claims to show Senator Franklin Drilon asleep at a key game between University of the Philippines (UP) and Ateneo de Manila University.
The games drew a lot of attention on social networks and in local media as it was the UP men's first time in the Philippine college basketball league finals in 32 years.
Here is a screenshot of one of the misleading posts: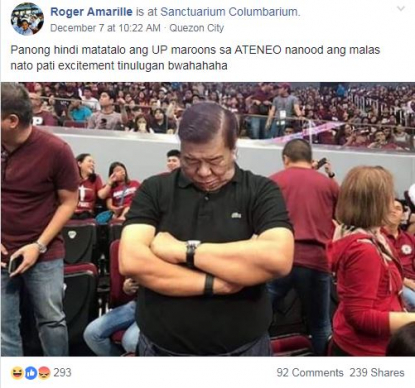 (Screenshot of Facebook post)
The caption, when translated to English, says:  "How can UP Maroons not lose to ATENEO when this bringer of bad luck watched the game and slept through all the excitement bwahaha".
The UP team, which is known as the UP Maroons, lost to Ateneo. 
Comments on the post indicated that some people believed the image of Drilon was genuine.
One comment, when translated to English, says: "Is he standing or sleeping? He can sleep in whichever position? Appalling".
(Screenshot of comment)
Another comment says in Tagalog: "He is really bullheaded. He doesn't care, anywhere is fair game for him when it comes to sleeping. He is a senator who has no manners!"
(Screenshot of comment)
A reverse image search traced the photo of Drilon back to a tweet from local broadcaster ABS-CBN showing him at the game.
Senators Sonny Angara, Frank Drilon and Dick Gordon are here at the MOA Arena to watch the UP-Ateneo game #UAAPSeason81 #UAAPFinals | via @shiereyes pic.twitter.com/wxhT3cLTha

— ABS-CBN News (@ABSCBNNews) December 1, 2018
Here is a screenshot of that image: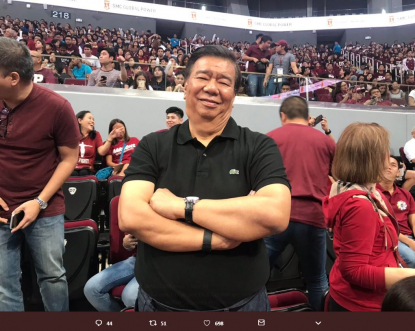 (Screenshot of tweetpic)
ABS-CBN tweeted the photo on December 1, the day of the first finals game between UP and Ateneo.
The altered version used in the Facebook posts appeared on December 7.
The images are identical, apart from Drilon's head. Key details like a man holding a mobile phone to the left of the senator and a laughing woman behind him are the same in both images.
A reverse image search of Drilon sleeping traced the photograph back to a series of 2017 Twitter posts with the hashtag #FireDrilon. 
Here is a screengrab of one of the tweets:
(Screenshot of tweet)
The hashtag emerged after Drilon was caught sleeping during a Senate hearing on August 23, 2017.
This is a video of the hearing and Drilon can be seen asleep at 1:04:18 in the clip.
Drilon is a member of the opposition Liberal Party and a critic of Philippine  President Rodrigo Duterte.
The post has been shared hundreds of times by Facebook groups which support Duterte.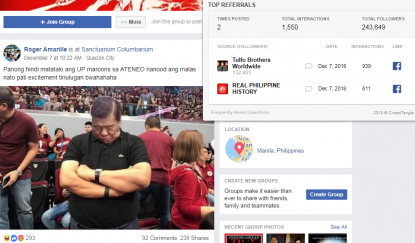 (Snapshot of Crowdtangle data)