No, this is not a video of an Indian air force pilot captured by Pakistan
A video which has been viewed hundreds of thousands of times on Facebook claims to show an Indian Air Force pilot captured after Pakistan shot down an IAF jet on February 27, 2019. The claim is false; the video actually shows a pilot injured in an accident at an air show rehearsal in India's Bangalore. 
The video has been shared repeatedly on Facebook, for example here where it has been viewed more than 150,000 times in less than 24 hours.
The post's caption says: "This is the Indian pilot which Pakistan has captured… Pakistan Air Force today unveiled India before the world."
The video shows a wounded Indian pilot with blood on his face lying on the ground on his back, still attached to a parachute. A man can be heard saying in English "stay calm sir, who should we call?"
Screenshot of misleading Facebook post
Pakistan and India said on February 27, 2019 that they had shot down each other's war planes. Pakistan said it had captured an Indian pilot. Here is an AFP story on the dispute.
The same misleading video has been shared by multiple other Pakistani Facebook accounts, for example here where it has been viewed more than 50,000 times since it was posted February 27, 2019, and here.
The footage has also circulated widely on Twitter, for example here with a caption saying "Indian pilot arrested", and on YouTube, for example here, and on WhatsApp.
Below is a screenshot of the footage being shared on WhatsApp: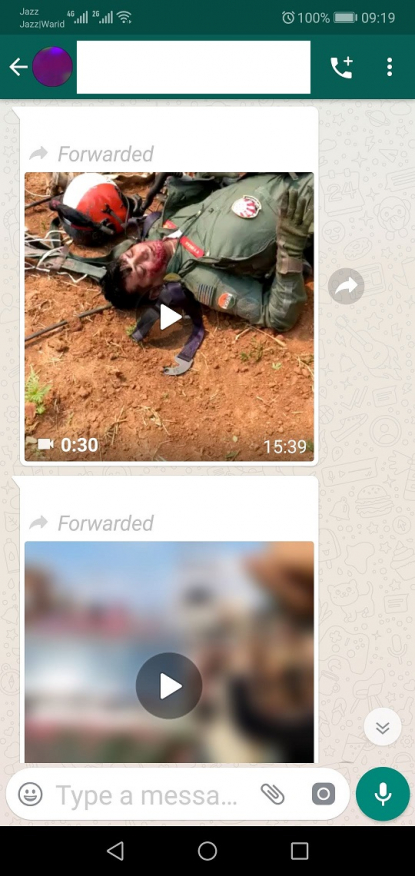 Screenshot of misleading footage on WhatsApp
An online search found the video of the wounded pilot was actually from a February 19, 2019 accident in Bangalore, when two planes collided mid air during a rehearsal for the upcoming Aero India Air Show.
The exact same footage as is used in the misleading posts was published here on the Karavali TV YouTube channel on February 19, 2019. 
Similar footage showing the same accident was published by the Tv9 Kannada news channel on their official YouTube channel also on February 19, 2019.
Here is a report by The Hindustan Times on the crash.
According to the report: "Two aircraft of Indian Air Force's Surya Kiran Aerobatics Team collided at the Yelahanka airbase in Bengaluru on Tuesday."
"The aircraft, believed to be BAE Hawk MK 132, were rehearsing for the Aero India show in Bengaluru (also called Bangalore) . Both the pilots ejected but one of them succumbed to his injuries. 'One pilot has succumbed to injuries in the Surya Kiran jet crash; two others safe,' said DGP Fire Services M N Reddi."
Pakistan's military released an official video of the Indian pilot it captured after shooting down a fighter jet. Here is the video, which was uploaded on AFP's official YouTube channel.
India's foreign ministry issued a statement on February 27, 2019 in which it condemned Pakistan releasing the video of the captured soldier.
"India also strongly objected to Pakistan's vulgar display of an injured personnel of the Indian Air Force in violation of all norms of International Humanitarian Law and the Geneva Convention. It was made clear that Pakistan would be well advised to ensure that no harm comes to the Indian defence personnel in its custody. India also expects his immediate and safe return."