No, this is not a picture of the pro-oil convoy heading to Ottawa
A picture portrayed as the pro-oil truck convoy that arrived in the Canadian capital Ottawa on February 19 from Canada's Western provinces has been shared thousands of times in Canadian social media groups. The convoy pictured actually took place in December 2018 in Grande Prairie, Alberta, though it also advocated for increased oil production in Canada.
An image of a truck convoy spanning the entirety of a snow-covered town's main street has been shared 3,600 times in a single day, along with the caption, "Thank you! United We Roll convoy #YouMadeHistory."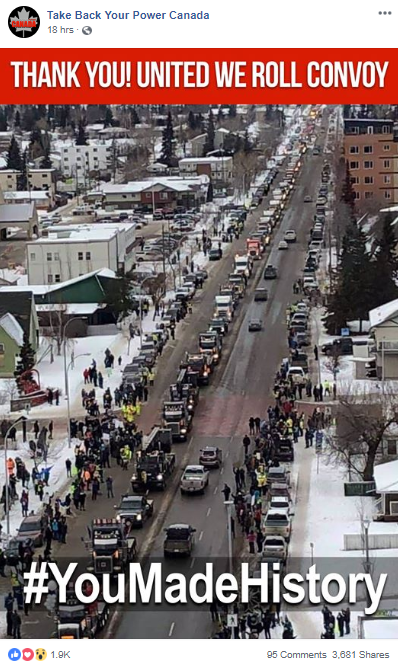 Screenshot taken on February 21, 2019 of a misleading Facebook post
Although the convoy pictured above did take place and was also a protest in favor of increased oil production and pipeline creation in Canada, it was not the so-called United We Roll convoy, which led 50 large trucks and other smaller vehicles from Red Deer, Alberta to Ottawa in February 2019.
The United We Roll convoy drew about 500 protesters to the capital's Parliament Hill, police told an AFP reporter at the rally, before its members drove back to Canada's Western provinces.
The photo used in the message of congratulations was taken on December 16, 2019, during another, larger pro-oil protest in Grande Prairie, Alberta. The Royal Canadian Mounted Police told AFP by email that they estimated that 1,500 people took part in a rally in Grande Prairie Muskoseepi Park, before a convoy of more than 600 trucks drove through the northwestern Alberta town.
Grande prairie rally pic.twitter.com/hRYc992Ucx

— shawn carter?? (@shawncar100) 16 décembre 2018
The original photo was taken from a helicopter by local photographer Ron Potts, who told AFP that although he did not upload the photo on social media, he did provide it to the event organizers to use as they wished. The photo was used in media reports at the time. Potts uploaded other photos of the rally here.
Although the two convoys shared a cause, the one in the photo, which took place in December in Grande Prairie, saw a higher attendance than the one in Ottawa, which required participants to drive several thousand kilometers to protest in front of the national parliament.