No, this is not a photo of a missing Indian student with Islamic State group fighters in Syria
A photo has been shared hundreds of times online in posts that claim it shows an Indian student, who disappeared from a Delhi campus in 2016, posing with Islamic State group fighters in Syria. The claim is false; the photo was taken in Iraq in 2015 by international news agency Reuters and shows Shiite militia fighters, not IS members.
The false claim has been posted repeatedly on Facebook, for example here and here, where it has been shared more than 1,500 times since it was published on February 26, 2018, and Twitter, for example here.
The Facebook posts' caption says, in Hindi: "Recognize him?? This is our Najeeb.. from JNU... the one who was part of revolutionary gang... He got a placement in ISIS after obtaining doctorate from JNU. He sends his salutations to Rahul Gandhi and Arvind Kejriwal from Syria."
Najeeb Ahmed is a student of Jawaharlal Nehru University (JNU) in Delhi, who has been missing since October 2016.
Here is a report on Ahmed's disappearance by the Times of India.
Below is a screenshot of the misleading Facebook post:
Screenshot of misleading Facebook post
Rahul Gandhi is the president of the opposition Indian National Congress party and Arvind Kejriwal is the chief minister of Delhi and head of the Aam Aadmi Party.
A reverse image search found that the original photo was published here on March 7, 2015 – seven months before Ahmed went missing – on the Reuters image website.
The photo's caption says: "Shiite fighters stands near a wall painted with the black flag commonly used by Islamic State militants in the town of Tal Ksaiba, near the town of al-Alam, March 7, 2015.
"Iraqi security forces and Shi'ite militia fighters struggled to advance on Saturday into the two towns of al-Alam and al-Dour near Tikrit, their progress slowed by fierce defence from Islamic State militants."
Below is a screenshot of the photo as it appears on the Reuters site: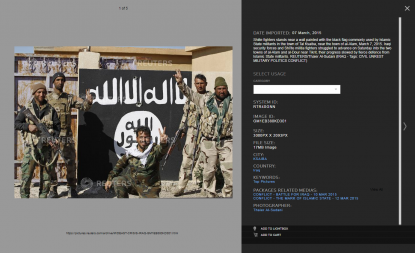 Screenshot of original photo on Reuters image website
The misleading posts do not say which of the men in the photo is allegedly Najeeb.
Multiple Indian media reports ran photos of Ahmed alongside their reports, for example here and here.
Delhi police also have details of Najeeb Ahmed's disappearance which can be found in their missing person database. 
Below is a screenshot of the police records: 
Screenshot of police report
The image of Najeeb in the Delhi police records and the photographs published by Indian media do not correspond to anyone featured in the misleading image.
The traditionally left-leaning JNU has been targeted by nationalist groups and accused of fostering sedition. Here is an AFP report on student protests there in 2016.
This claim has also been debunked by Indian fact-checking organisations such as Altnews.in here.