No, this is not a photo of a double-headed cow
A Facebook post that has been shared tens of thousands of times contains a photo that purportedly shows a two-headed zebu -- a cattle breed with a hump which is common in South Asia. The photo is doctored; a mirror effect has been used to make it appear as though the animal has two heads.
The doctored image can be seen here on Facebook, where it has been shared more than 29,000 times since it was posted on December 1, 2018.
The Urdu language caption says: "Glory your nature".
Comments below the post indicated that some Facebook users believed the image showed an actual cow.
For example, one posted in Russian: "I would say-trouble not glory, deviation from the norm, violated ecology, the earth is poisoned by chemicals. In the Ark of Noah, the animals were considered by the heads. 1 Head (1 Animal)".
Another posted in Arabic: "Hallelujah. He's capable of everything."
Another asked in French which country the image was from.
Below are screenshots of some of those comments: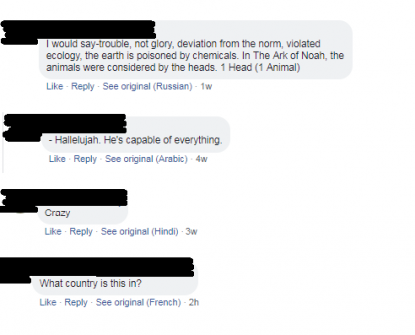 The misleading image was created using editing software to create a mirror effect, a technique that is explained in this blog post on a photography website.
Below is a screenshot of the doctored image. AFP has circled the some of sections of the image which are identical on both sides of the picture, clearly showing that a mirror effect was used to create it: