No, massive quantities of rat meat are still not being sold as chicken wings in the US
Claims that 1 million pounds of rat meat from China are being sold as boneless chicken wings in the United States are not true. The US Food and Drug Administration (FDA) never issued a report warning about rat meat, and the photos used to illustrate the claim are presented out of context.
An article from The Voyager Channel is entirely based on a fictional FDA report allegedly warning that one million pounds of chicken wings made out of rat meat have been sold across the United States in the past eight months. The article was published on July 8 and has been shared over 110,000 times since.
"This story is not true," FDA spokesperson Peter Cassell told AFP in an email.
"We have never put out such a warning, and USDA [United States Department of Agriculture] is the agency that has primary regulatory authority over most meat products, including imported meats."
Contacted by email by AFP, a USDA Food Safety and Inspection Service (FSIS) spokesperson said that FSIS "has not detained, seized, or issued a warning report about rat meat being imported to the United States from China."
The email added that "US consumers can be assured that the poultry they eat is safe, wholesome and accurately labeled."
This is not the first time the FDA has been forced to debunk claims about rat meat. Various claims of large-scale rat meat scandals have been debunked several times. 
One article which mentioned 300,000 pounds of rat meat was timed to coincide with the NFL Super Bowl. According to the National Chicken Council, Americans typically consume more than 1 billion wing portions during the weekend of the big game.
These articles spread enough uncertainty to influence Google and Foodsafety.gov search results.
Screenshot of a engine search result on US government website FoodSafety.gov (U.S. Department of Health and Human Services)
Screenshot of a Google search suggestion (Google)
In 2016, fact-checking website Snopes traced the earliest version of the story to a February 6, 2016 article in World News Daily Report, now unavailable online.
Photos out of context
The lead photo in the article on The Voyager Channel was not taken in the United States in 2018. A reverse image search shows that it was taken in 2007 in Thailand by Danish travel blogger Nicolai Bangsgaard.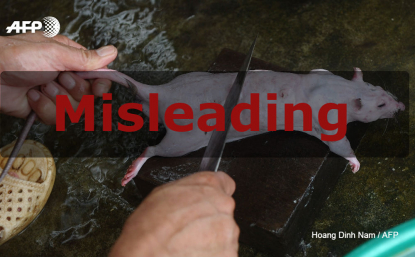 A 2013 photo of a rat prepared in a restaurant in Vietnam (HOANG DINH NAM / AFP)
The AFP photo used in the article was taken in 2013 as part of a series of photos from a rat restaurant on the outskirts of Hanoi, Vietnam.