No, Canada has not asked the Philippines for one million immigrants as part of a new employment programme
An online report shared hundreds of times in multiple posts on Facebook claims that Canadian Prime Minister Justin Trudeau "pleaded" with Philippine President Rodrigo Duterte to send one million immigrants to Canada as part of the country's new "Employment and Migration" programme. The claim is false: the Canadian government told AFP no such programme exists.
The online report here, which has been shared on Facebook more than 400 times, states the new "Employment and Migration" programme will allow one million Filipinos to come to work in Canada.
Below is a screenshot of the report: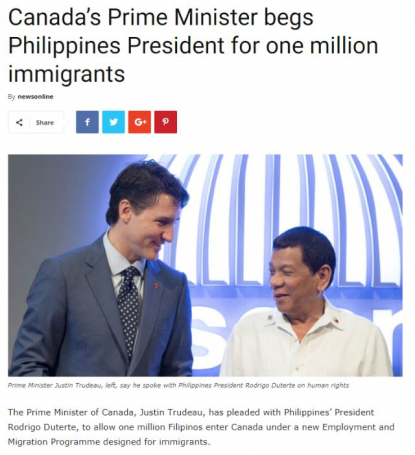 Screenshot of website
The false report states in part: "The Prime Minister of Canada, Justin Trudeau, has pleaded with Philippines' President Rodrigo Duterte, to allow one million Filipinos enter Canada under a new Employment and Migration Programme designed for immigrants.
"According to Trudeau, immigrants from the Philippines have been a strong force in Canada's growth in all sectors of its economy.
"We can't undermine or overlook the contribution of immigrants in Canada's development especially our brothers and sisters from the Philippines", Trudeau said."
The false report has been shared more than 400 times on Facebook according to data from social media monitoring platform Crowdtangle.
It was shared in multiple posts, including here by a page called 'OFW Family' with more than 155,000 followers.
Below is a screenshot of the post: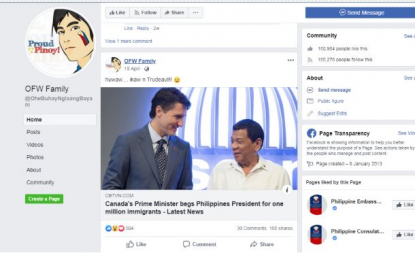 Screenshot of Facebook page
It was also shared here in a group with more than 33,000 members.
The department of Immigration, Refugees and Citizenship Canada (IRCC) told AFP that there is no such programme.
"The information published in the article is not true. To warn people about similar false information, Immigration, Refugees and Citizenship Canada has issued a tweet and Facebook post from official accounts informing people that the immigration program referenced does not exist," Rémi Larivière, media relations advisor for Immigration, Refugees and Citizenship Canada said to AFP in an email on May 22.
No such "Canadian Labour Department" exists either, the Public Affairs and Stakeholder Relations told AFP in an email on May 25.
The website that published the false article about the Philippines posted similar claims about Nigeria and Kenya.
AFP Nigeria fact-checked that claim here.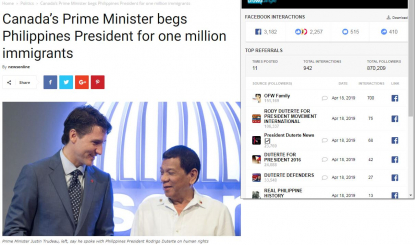 Screenshot of Crowdtangle data