No, 400 million eggs have not been recalled in Canada
An article shared 7,200 times claims 400 million Walmart brand eggs have been recalled in Canada due to possible salmonella contamination. While the US Food and Drug Administration (FDA) did issue a recall for 200 million eggs in April 2018, the recall did not include eggs sold in Canada. A Canadian Food Inspection Agency spokesperson told AFP that the report was false and there is no egg recall in Canada.
"Over 400 million eggs have been recalled over salmonella fears was sold at Walmart stores in Alberta, Ontario, Quebec, New Brunswick, Nova Scotia, British Columbia, Manitoba and Saskatchewanin [sic]," according to an article published on website Canada Eh? According to social media monitoring tool CrowdTangle, the article was shared more than 7,200 times.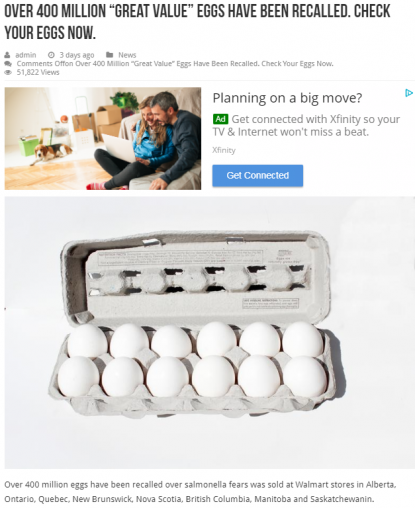 Screenshot taken on June 12, 2019 of a false Canada Eh? article
The report is false, Christine Carnaffan, spokesperson for the Canadian Food Inspection Agency, told AFP.
"We're trying to get them to take it down," she said in reference to the article.
Steeve Azoulay, spokesperson for Walmart Canada, told AFP: "There is no recall in Canada on Great Value eggs."
The article is illustrated with a screenshot of a recall notice about US egg company Cal-Maine. A Cal-Maine spokesperson told AFP, "There is no recall involving Cal-Maine eggs at the moment."
Screenshot taken on June 12, 2019 of an egg recall image from the Canada Eh? article
While Cal-Maine supplies Walmart in the United States, "it is not a Walmart supplier," in Canada, Azoulay told AFP.
Cal-Maine was the subject of an FDA recall in April 2018. The warning said 23,400 eggs had "the potential to be contaminated with Salmonella Braenderup" after a nearby egg farm owned by Rose Acre Farms, also recalled 200 million eggs. Some of the eggs from a Rose Acre facility in North Carolina were sold in the US under the Walmart brand Great Value.
"The voluntary recall was a result of some illnesses reported on the US East Coast," the FDA reported.

Screenshot taken on June 12, 2019 of an April 2019 FDA recall of Great Value eggs in the US
The same website also posted a nearly identical article about the recall of 'Compliments' chicken strips, but it is true. Here are the details of the recall on the Canadian Food Inspection Agency's website.
Consumers worried about product recalls in Canada can search this site run by the Canadian Food Inspection Agency. Products recalled from Walmart Canada are listed here.