This news report has been fabricated -- it was originally about the death of Kobe Bryant
A purported news report claims that Derek Chauvin, a former Minneapolis police officer charged with second-degree murder over the killing of George Floyd in police custody, has been killed by rioters. The claim is false; the video was digitally altered from a CNN broadcast that originally reported on the death of basketball legend Kobe Bryant in January 2020; the website that shared the doctored video has a history of publishing hoaxes.
The video was published here on the website randomnames.club. It bears a purported logo of US broadcaster CNN and shows one of its hosts, Don Lemon.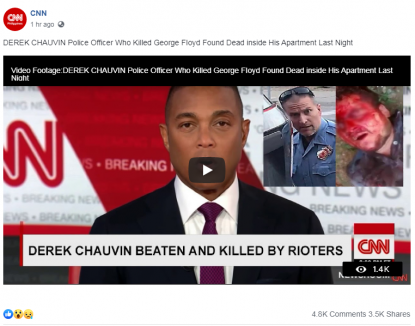 Screenshot of the misleading post taken on June 17, 2020
The video's caption states: "DEREK CHAUVIN Police Officer Who Killed George Floyd Found Dead Inside His Apartment Last Night", while the text overlaid in the footage adds that Chauvin was "beaten and killed by rioters". 
The video report starts with an intro: "This is CNN breaking news". It then shows Lemon addressing the viewers: "Good evening everyone, thank you for joining us. I'm Don Lemon. Right now, so much of the world…" 
It then cuts to a photo of Derek Chauvin, the former police officer charged with the murder of unarmed black man George Floyd in Minneapolis on May 25. It also shows a photo of a person with a bloodied face. 
Floyd's death sparked global protests against police brutality and racism, AFP reported here.
An identical video with a similar claim was also shared on YouTube here. 
The claim is false.
Keyword searches on Google found that the video in the misleading posts is an altered version of the first eight seconds of a CNN news report on the death of basketball superstar Kobe Bryant. The report was published here on YouTube on January 26, 2020.  
"Kobe Bryant and daughter Gianna killed in California helicopter crash," the CNN video's caption states.
Below is a screenshot comparison showing the doctored video in the misleading posts (L) and the original CNN report (R):
Screenshot comparison
The website that shared the doctored CNN video is not a reputable source of news.
In March 2020, AFP debunked another hoax published on the site that claimed the Philippine government has approved the release of $400 to social security members to tide them over the COVID-19 pandemic.