Misleading social media posts claim Seoul government banned Bibles in city's churches
Multiple posts shared on Facebook in November 2020 claim that South Korea's Seoul Metropolitan Government has banned churches from displaying and using Bibles during their services. The claim is misleading; the city's announcement on November 23, 2020 actually bans the sharing of communal Bibles among worshippers, as part of a city-wide effort to curb the spread of the novel coronavirus; city officials told AFP that individuals are permitted to read their personal Bibles in churches.
The claim was shared here on Facebook on November 25, 2020.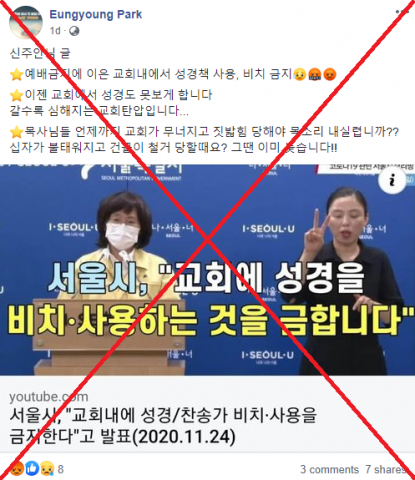 Part of the Korean-language text in the post translates to English as: "Following a ban on church services, now a ban on using and displaying Bibles in churches.
"They are now banning us from reading Bibles in churches. Oppression against the church is getting worse and worse."
The posts also feature a screenshot of a YouTube video, with Korean text that reads: "The city of Seoul, 'A ban on churches displaying and using Bibles'".
A similar claim was also shared here, here, here, here and here.
The claim, however, is misleading.
One day before Seoul entered level two of social distancing restrictions, the Seoul Metropolitan Government published this November 23, 2020 statement on Covid-19 restrictions. It states the government "bans the use of shared goods (Bibles, hymn books)".
Below is a screenshot of a relevant part of the statement.
Lim Seok-jin, the chief of the Religious Affairs department at the city's Culture Policy Division, told AFP that the restrictions "do not mean a total ban" on the use of Bibles at churches, and that individuals are "permitted to bring personal copies" to their place of worship.
During a phone interview with AFP on November 25, 2020, he said: "Many churches stockpile Bibles and distribute them to worshippers who may have forgotten their own. This can facilitate the spread of the virus, and the new ban is intended to prevent such transmissions from happening."
He added: "The new restrictions are not intended as a means to oppress or punish churchgoers who violate social distancing rules, but to encourage churches to engage more proactively in Covid-19 restrictions to help stop the spread of the novel coronavirus."