Misleading claim circulates online that China and Japan have re-entered nationwide coronavirus lockdowns in May 2020
Multiple Facebook posts shared hundreds of times claim China and Japan have re-entered a strict coronavirus lockdown in mid-May 2020 following a "second wave" of the virus. The posts were shared as a "breaking news" alert on May 16. The claim is misleading; as of May 22, Japan has begun easing lockdown restrictions; on May 18, China put one city in Jilin Province under total lockdown but it has relaxed restrictions in other parts of the country.
The post was published here on Facebook on May 16, 2020.
It has since been shared more than 200 times.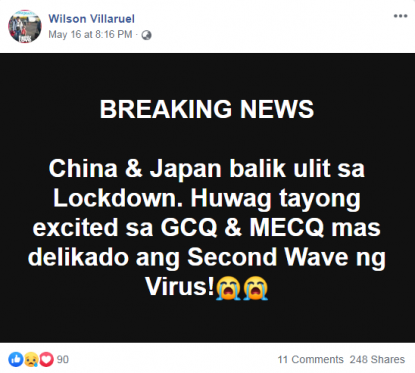 A screenshot of the misleading Facebook post taken on May 22, 2020
The post's Tagalog-language caption translates to English as: "BREAKING NEWS / China & Japan back again on Lockdown. Let us not be too excited about GCQ & MECQ the Second Wave of the Virus is more dangerous!"
"GCQ" and "MECQ" are acronyms for "general community quarantine" and "modified enhanced community quarantine", which are the names of the phases on the Philippine government's roadmap to easing COVID-19 restrictions.
Select establishments in the Philippine capital of Manila were allowed to reopen last week, signalling the end of a two-month lockdown. 
An identical claim was also shared here, here, here and here on Facebook.
The claim is misleading.
-- Japan --
As of May 22, 2020, Japan announced it was easing restrictions related to the novel coronavirus. 
This AFP report published on May 21, 2020 states, in part: "Prime Minister Shinzo Abe lifted a state of emergency in several big cities in western Japan and hinted that the measure would be removed nationwide as early as next week. 
"'We decided to lift the state of emergency for Osaka, Kyoto and Hyogo,' Abe told reporters, leaving Tokyo and its neighbouring regions as well as the nation's northern island of Hokkaido under restrictions."
Other Japanese media, including the Nikkei newspaper and NHK television channel, also reported on the lifting of the state of emergency in Japan. 
Japan declared a month-long state of emergency for seven of its prefectures on April 7, 2020, which gave regional leaders powers to "urge people to stay indoors" but pledged normal operation of public transport and no roadblocks, according to this AFP report. 
To date, there is no announcement on the Japanese Prime Minister's Office website about a countrywide lockdown. 
-- China --
AFP conducted a keyword search on the COVID-19 section of the Chinese government website and the state-run China Internet Information Center website and found no mention of a nationwide lockdown, as of May 22, 2020.
This May 18, 2020 report by China's Xinhua news agency, however, does say "the toughest control measures" have been implemented in Shulan, a city in the country's northeast, to control the spread of COVID-19.
It reads, in part: "Shulan, a county-level city in northeast China's Jilin Province, on Monday imposed complete closed-off management for local residential communities with confirmed or suspected COVID-19 cases. 
"The epidemic prevention and control work leading group in Shulan said 'the toughest control measures' went into effect as of Monday noon. Local residential communities with confirmed or suspected cases are under complete close-off management, basically allowing no people to come in and go out without authorization, it said. The stores and supermarkets are responsible for delivering daily necessities."
The Chinese city of Wuhan was placed on a strict lockdown on January 23, 2020 after it endured the first major outbreak of COVID-19. The lockdown restrictions were lifted in early April. A cluster of new local infections in mid-May, however, prompted a mass testing campaign as AFP reported here. Xinhua's May 22, 2020 report on the mass tests makes no reference to the city being placed on lockdown again.