Misinformation circulates online about Thailand's national holidays
Multiple Facebook posts shared thousands of times in June 2020 claimed Thailand would declare July 8 to July 10 as national holidays. The posts claimed the move would be taken after the postponement of the Songkran festival in April earlier this year due to coronavirus restrictions. The claim is false; a deputy spokesperson for the Thai government told AFP that July 8 to July 10 were to be kept as normal working days. 
The claim was published here on Facebook on June 4, 2020. It has been shared more than 8,000 times.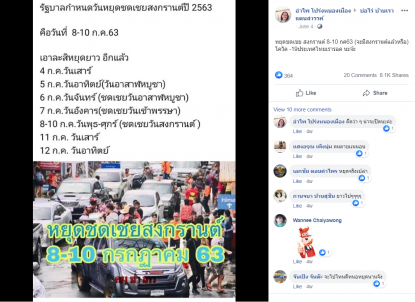 Screenshot of misleading Facebook post
The Thai-language caption translates to English as: "The compensation holiday of Songkran from July 8-10, 2020 (there will be Songkran?) Thailand survived from COVID-19."
The text superimposed on the image reads: "Government has appointed the compensation dates for Songkran 2020. That is July 8-10 2020. Here we go, another long holiday.
"July 4: Saturday
"July 5: Sunday (Budhhist holiday)
"July 6: Monday (Compensation of Buddhist holiday)
"July 7 Tuesday (Compensation of Buddhist holiday)
"July 8-10: Wednesday to Friday (Compensation of Songkran)
"July 11: Saturday
"July 12: Sunday
"Compensation of Songkran Holiday".
"Songkran"  is a Thai national holiday, usually celebrated in mid-April, that marks the beginning of a new year. This year's celebrations, however, were cancelled while lockdown measures were in place as part of efforts to curb the spread of the novel coronavirus, as per this AFP report. 
A similar claim was also shared here, here and here on Facebook.
The claim is false.
In response to the misleading posts, Ratchada Thanadirek, the deputy spokesperson for the Thai government, told AFP that compensation holiday had not been set in replace the Songkran national holiday.
Speaking by phone on June, 29, 2020, she said: "July 8-10 are normal working days in Thailand. The Songkran holiday compensation dates will be considered in the cabinet meeting this Tuesday [June 30, 2020]."
Thailand approved a four-day public holiday for July 4-7 to mark the Buddhist festivals of Asahna Bucha and Lent. The announcement was reported here by The Bangkok Post on June 23, 2020. 
The cabinet approved July 27, 2020 as the first Songkran compensation holiday, according to a report by the government's Public Relations Department.
The announcement was also reported by Thai-based English-language newspaper The Nation here.
The report translates to English in parts as: "The holidays will run from July 25 to July 28 (the King's birthday), with Monday, July 27 marked as the first compensatory holiday for Songkran."