Madagascar refutes claims Putin ordered herbal drink touted as coronavirus remedy
A Facebook post shared thousands of times claims that Russian President Vladimir Putin ordered Covid-Organics, a herbal drink touted by Madagascan President Andry Rajoelina as a cure for COVID-19. The post claims that Putin urged Africans "not to follow" the World Health Organization (WHO), which has warned against untested traditional medicine. However, AFP Fact Check found no official reports from the Kremlin of any order and the Madagascan presidency denied the claims.
"I just ordered 1 million Covid19 organic drink made in Madagascar for my country, to give to Russians who are sick and contaminated with Covid19 (sic)," reads the caption of a post shared more than 600 times since its publication on May 17, 2020.
The same post also claims Vladimir Putin urged Africans "not to follow the WHO so as not to fall into a hole without depth. Today, Africa has just demonstrated to the world that it is the cradle of humanity, now is Europe's turn to bow to Africa (sic)."
Screenshot of misleading Facebook post, taken May 24, 2020
Madagascan President Andry Rajoelina made headlines last month when he unveiled Covid-Organics, a herbal tea derived from artemisia -- a plant with proven anti-malarial properties -- and other indigenous herbs.
But the World Health Organization (WHO) has repeatedly warned that the infusion, which Rajoelina has touted as a remedy against coronavirus, has not been clinically tested.
On May 7, 2020, the WHO's regional director for Africa, Matshidiso Moeti, said: "We would caution and advise countries against adopting a product that has not been taken through tests to see its efficacy," and called on Madagascar to take the drink "through a clinical trial".
In a televised interview on May 11, 2020, Rajoelina said the "natural, non-toxic and non-invasive" remedy is "preventive and curative" against COVID-19, the disease caused by the coronavirus. He stressed that "those who received the remedy Tambavi CVO noticed significant improvement only 24 hours after the administration of the first dose" and "recovery was observed in seven to 10 days".
The Presidency of Madagascar denied the claims
Madagascan authorities have distributed the drink door to door and in schools, while countries including Senegal, the Democratic Republic of Congo, Guinee-Bissau, Niger, Tanzania, and the Comoros Islands all received donations.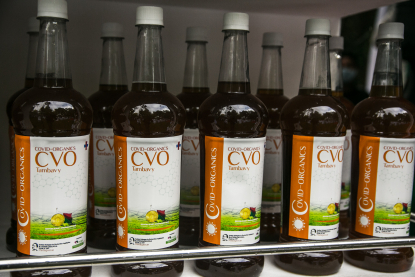 Samples of "Covid Organics" or CVO, are on display in Antananarivo on April 20, 2020 (AFP / Rijasolo)
Contacted by AFP Fact Check on May 14, 2020, the office of the President of Madagascar flatly denied the allegations that Putin placed an order.
"The presidency of Madagascar refutes these claims," said presidential cabinet head Lova Ranoramoro. She said that "all inquiries" about the drink were "public".
The product cannot be "ordered" for commercial purposes, but are "donations rather than sold internationally", she added. 
AFP Fact Check found no evidence of an "order" of Covid-Organics from Russia, which has recorded more than 350,000 cases of COVID-19 as of May 26, 2020, according to an AFP tally.
AFP Fact Check found no evidence of Vladimir Putin making this statement in official Kremlin sources or major Russian news outlets. 
Russian support for WHO
Since the outbreak of the virus late last year, Russia has repeatedly expressed its support to the WHO, unlike the criticism the organisation has received from US President Donald Trump.
Last month, Russian Foreign Minister Sergueï Lavrov condemned "unfair and counterproductive attacks" against the WHO in a video conference with students at Moscow State Institute of International Relations. He said the United Nation's health agency "handled each step of this crisis with professionalism".
WHO advises clinical trials
The World Health Organization has pointed to a lack of scientific evidence to prove Covid-Organics's effectiveness against the new coronavirus. 
The President of Madagascar Andry Rajoelina attends a ceremony to launch "Covid Organics" or CVO, in Antananarivo, on 20 April 2020 (AFP / Rijasolo)
"Concerning the medicine, our position is clear: there has been no test," Michel Yao, head of the Public Health Emergency Operations Centre at WHO Africa told AFP Fact Check on April 29, 2020. "We encourage research, but all recommended treatments require clinical tests and trials to prove their efficacy and safety in order for it not to be detrimental to the population, which is not the case with this remedy."
In a press release on May 4, 2020, the WHO called for "rigorous clinical trials" to evaluate potential coronavirus cures, including traditional medicine.
Scientists around the world are developing dozens of candidate vaccines, including 10 drugs currently in clinical evaluation. 
"The issue is that it comes from Africa"
In a televised interview on May 11, 2020, Madagascar's president slammed sceptics, saying, "If Europeans had found this remedy, would it be challenged? I highly doubt it."
"It comes from Africa, and that is the problem. They can't accept that a country like Madagascar, the 163rd poorest country in the world, came up with a formula to save the world," he said.
Translated and adapted by Amanuel Neguede