Impeachment pens used by Pelosi did not cost thousands of dollars
A series of posts on Facebook claim that the pens used to sign the articles of impeachment of US President Donald Trump cost thousands of dollars. The claims are false; the manufacturer put the suggested retail price at around $20, and a total of 30 were used.
There are a variety of claims circulating online about the price of the pens used in the January 15, 2020 signing, including that they cost $2,500 or $15,000 each, or $5,000 or $15,000 in total.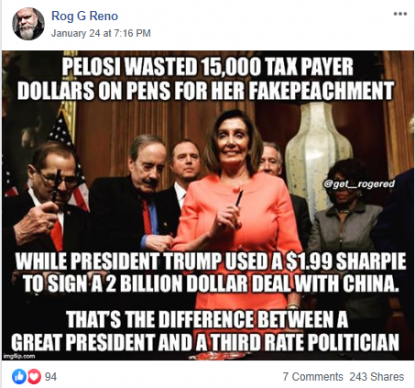 A screenshot taken on January 31, 2020
Speaker of the House Nancy Pelosi used 30 different pens to sign the articles of impeachment. The use of numerous pens on important political documents is a tradition in the United States that has been followed by both Democratic and Republican politicians.
 "These pens were manufactured by Garland Writing Instruments, a 93-year old manufacturer located in Coventry, Rhode Island," the company's president, Rick Becker, told AFP by email.
"The pens have a MSRP of around $20," said Becker, referring to the manufacturer suggested retail price.
"We sell our pens through promotion products distributors and they determine the final price to the customer," he said, later adding that it "would not surprise me that a distributor gave a high profile customer a discount."
"Our reaction to the false claims that these pens cost thousands of dollars each is quite flattering, but unfortunately for us, not true," Becker said.
Trump is on trial in the Senate, where Republicans hold enough seats to likely ensure his acquittal on charges of abuse of power and obstruction of Congress.
The "souvenir" pens used to sign the articles of impeachment drew fire from Republicans, with Senate Majority Leader Mitch McConnell criticizing the proceedings as "not solemn or serious," and White House Press Secretary Stephanie Grisham saying that Pelosi "was so somber as she gave (the pens) away to people like prizes."
During the president's Senate trial, Trump's personal attorney Jay Sekulow also took aim at the distribution of the pens following the signing, saying he wanted to "contrast the solemn nature of these proceedings... with what took place in the House of Representatives upon the signing of articles of impeachment."
"Pens. Distributed to the impeachment managers. A celebratory moment," Sekulow said.
"Think about that."
This story has been covered by other media organizations including FactCheck.org.