This image of Nigerians protesting police violence has been doctored to insert unrelated placards
An image that appears to show Nigerians holding placards demanding justice for a late Indian actor has been shared in multiple Facebook posts. The image, however, has been digitally manipulated; the original is an AFP photo that shows Nigerians holding signs that protest police violence.
The image was published on Facebook here on October 19, 2020.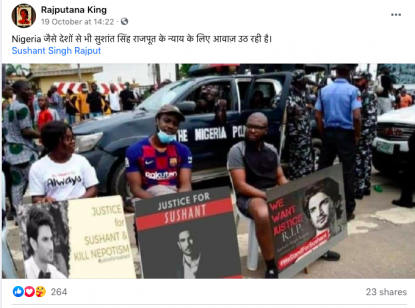 The post's caption translates to English as: "Voices demanding justice for Sushant Singh Rajput are being raised in countries like Nigeria."
Sushant Singh Rajput was an Indian actor who died by suicide in June 2020. His death dominated television news for months after suspicions were raised regarding the cause of death, as reported here by AFP. 
The image was also shared alongside the same claim on Facebook here and here and on Twitter here and here.
The image, however, has been doctored. 
A reverse image search on Google found that the original is an AFP photo that shows Nigerians holding signs that protest police violence.
The original photo was published here by AFP on October 9, 2020.
The caption reads: "People sit beside a police truck on the road to the government house while carrying placard in continuation of ongoing demonstrations to call for the scrapping of the controversial police unit at Ikeja, on October 9, 2020. Nigeria's top police chief banned a controversial anti-robbery unit and other special agents from mounting roadblocks and carrying out stop-and-search operations over accusations of abuses. Inspector-General of Police Muhammed Adamu said the Federal Special Anti-Robbery Squad (FSARS) and other tactical squads must stop such operations "with immediate effect". Adamu said the decision followed findings that "a few personnel" in undercover tactical squads have abused their position "to perpetrate all forms of illegality". PIUS UTOMI EKPEI / AFP."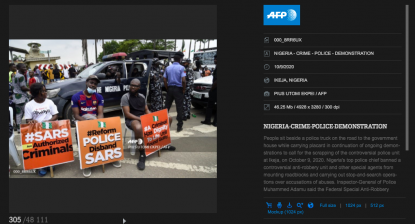 Below is a screenshot comparison of the image shared in the misleading posts (L) and the AFP photo (R):
AFP also reported here on the hundreds of people that took to the streets across Nigeria on October 9 to protest police violence.