Fake graphic misleads on Philippine lockdowns after Omicron detection
After the Philippines detected cases of the fast-spreading Omicron coronavirus variant, Facebook posts shared a graphic claiming 30 areas across the country had been placed under tightened restrictions until the end of January. But the Philippine health department and local broadcaster GMA News -- whose logos appear in the graphic -- separately said the information is inaccurate. As of January 6, tighter restrictions only applied to the capital region and four nearby provinces.
"ALERT LEVEL 3 AREAS EFFECTIVE IMMEDIATELY UNTIL JANUARY 30, 2022", reads the graphic posted on Facebook on January 4.
It lists one Philippine region, 24 provinces, and five cities and municipalities that had supposedly been placed under the third highest lockdown restriction. 
The graphic also features the logos of the Philippine Department of Health and local broadcaster GMA News.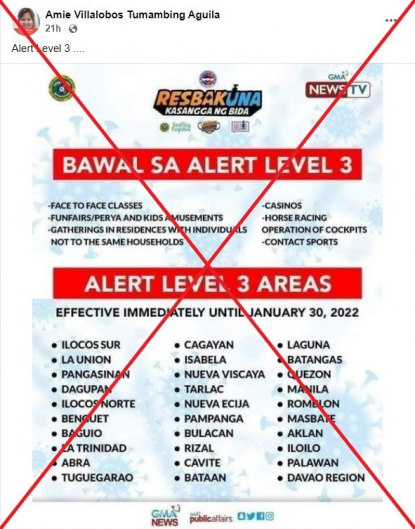 Screenshot of the misleading post taken on January 5, 2022.
The post circulated as the country saw a sharp increase in daily Covid-19 infections following the detection of local cases of the highly infectious Omicron variant in late December.
The same graphic was shared in similar Facebook posts here, here, here and here.
These posts are misleading.
'Fake' graphic
The Philippine health department said in a Facebook post on January 4 that the graphic was "fake".
"The Department of Health denounces the circulating social media card regarding the announcement of Alert Level 3 in certain areas across the country", it said.
GMA News on the same day separately denied publishing the graphic, saying the use of its logo was"unauthorized". 
Tighter restrictions
As of January 6, tighter pandemic restrictions had been imposed only to the capital region and four nearby provinces of Bulacan, Rizal and Cavite and Laguna.
The whole Philippines was previously under Alert Level 2 -- the second-lowest level -- which allowed businesses and restaurants to operate at a higher venue capacity and in-person classes for basic and higher education to resume on a limited basis.
Misinformation about pandemic lockdowns regularly circulate on Philippine social media. AFP has previously debunked some of them here and here.