Skit performance misrepresented as actual video of young girls publicly drinking in Delhi
A video has been viewed tens of thousands of times in Facebook and Twitter posts that purport to show actual footage of two young girls drinking in public after the Indian capital Delhi introduced a policy that eased access to alcohol. The posts circulated online following concerns that the relaxed rules may lead to an increase in alcohol-related public nuisance cases. However, the posts are misleading; the video actually shows a skit performance filmed by a social media influencer.
The video was shared on Twitter on December 7. 
Screenshot of the misleading post taken on December 17, 2021
Viewed over 42,000 times since its posting, the video shows two girls who appear to be consuming liquor in a public area.
A person is heard telling the girls to stop drinking, to which one replies in Hindi: "We are drinking with our money and not yours."
The video's caption states: "Congratulations @ArvindKejriwal for making Delhi liquor capital".
Arvind Kejriwal is the chief minister of Delhi.
The post circulated weeks after the Indian capital introduced a policy that eased access to alcohol in shops, as reported by Indian media outlet NDTV. 
The Hindustan Times reported that two Delhi residents filed a case to stop the measure, arguing it could lead to an increase in alcohol-related public nuisance cases.
The video was also shared with a similar claim on Facebook here and here, and on Twitter here.
Comments to these posts indicate social media users thought the video showed an actual case of young women drinking in public.
One wrote: "Nothing surprising. Delhi has always been the place for spoiled brats. It's just getting more open now. But nobody has the right to act as moral police. Let the law enforcement authorities do the needful."
Another said: "liquor is being consumed in every state.. not only in delhi.. it is ok when boys drinks and not ok for girls.."
In reality, the video shows a skit performance.
At the video's one-minute nine-second mark, a disclaimer is shown saying: "This video is for entertainment and promotional purposes only. It falls under the fair use of law.
"We do not wish to make any commercial use all the contents are indeed to showcase the creativity of the artists involved and is strictly done for promotional purpose."
And the video bears a watermark that reads: "Mr_thakur1612."
Keyword searches found the account belongs to Sunny Thakur, a social media influencer who frequently posts skits on his Instagram, Facebook and YouTube pages.
The video in the misleading posts corresponds to a portion of a longer video Thakur posted here on his Facebook page on November 26.
The caption to the video reads: "Girls found drunk and (they) started abusing || Thakur Prank".
At the end of the longer video, a person can be seen with the girls saying: "This video was only made to send a message to the society as lots of such cases have been reported recently."
Responding to misleading claims about the video, Thakur told AFP: "It's is not real, it's just an act".
Below is the screenshot comparison of the video in the misleading posts (left) and Thakur's video (right):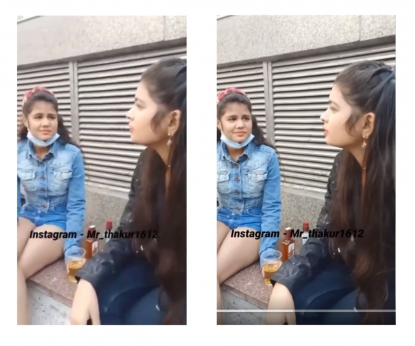 Screenshot comparison of the video in the misleading posts (left) and Thakur's video (right)