Image of Chinese-made motorcycle falsely posted as a product of Nigerian state
Images of a yellow-and-black three-wheeled taxi have been published on social media with claims that the vehicle was "manufactured" in Aba, the commercial centre of Nigeria's southeastern Abia state. However, the claim is false: the tricycle was produced by Chinese automaker Chongqing Beiyi Vehicle, and the image, available on the company's website, was digitally altered to conceal its watermark.
The images of the three-wheeled motorcycle appeared in a post published on Facebook on December 5, 2021, and has since been shared more than 6,700 times.
"7 seater keke constructed in Aba Abia state (sic)," reads the post's caption.  Keke refers to a tricycle in local parlance.
The post praised the Igbo people who dominate Nigeria's southeastern states, including Abia, for their talent. 
"This is our own," reads the latter part of the post translated from Igbo into English.
Screenshot taken on December 7, 2021, showing the false Facebook post
The same claim circulated with the same images on other social networks, including Instagram and Twitter.
Aba is widely known in Nigeria for its large concentration of local manufacturers and their creative potential across several sectors.
In 2018, Nigerian daily newspaper The Guardian and the Abia state government reported that an electric-powered tricycle was produced in the city.
However, the images of the tricycle circulating on social media originated from the website of a Chinese-based company and were not taken in Aba. 
Chinese trike
A reverse image search led to the website of global e-commerce store Alibaba where the original versions of the images advertised a tricycle for sale. 
Screenshot taken on December 7, 2021, showing the image on Alibaba
The advert featured four photos of the tricycle and a watermark "cnbeiyi.en.alibaba.com" in the centre.
When AFP Fact Check logged on to the website, we found that it is the supplier blog on Alibaba for Chinese automaker Chongqing Beiyi Vehicle. 
Chongqing Beiyi Vehicle manufactures Dayang-branded motorcycles at Luo Huang Industrial Park in China and sells to countries in South America, Southeast Asia, Middle East and Africa.
A comparison with the images on social media shows the tricycle is one and the same.
Screenshots of the images from the website (L) and those on social media, taken on December 7, 2021
Furthermore, the product specifications on Alibaba show that the tricycle comes from Chongqing in China and not Aba in Nigeria.
Screenshot taken on December 7, 2021, showing the tricycle's details
While the Chinese-made tricycle shares the same colour as the one manufactured in Aba in 2018, their designs are different.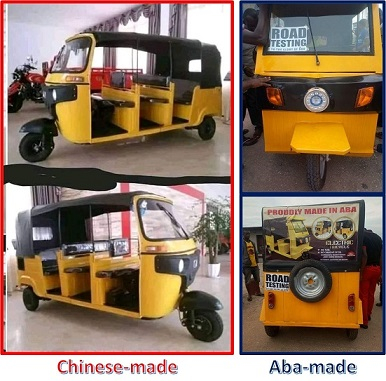 Screenshots showing the design of the Chinese-made tricycle (L) and the one from Nigeria
In addition, Chongqing Beiyi Vehicle has an annual production capacity of 20,000 three-wheel motorcycles but there is no evidence the model from Aba is in mass production.