This photo shows a keeper at an Indonesian wild reserve conducting routine maintenance
An image has been shared widely on Facebook alongside a claim it shows an orangutan trying to "help a geologist trapped in a mud pool". The claim is misleading: the man pictured is a keeper at an Indonesian wild reserve who was conducting routine maintenance, according to the image's photographer and the reserve's management. 
The image was shared here on Facebook on December 1, 2021.
It shows a screenshot of another Facebook post featuring an orangutan stretching out its hand to a man standing chest-deep in a mud pool. 
Screenshot of the misleading post, taken on December 7, 2021
The post's Indonesian-language caption reads: "Think about it, dark-hearted people."
The text above the picture reads in part: "Photo taken by photographer Anil Prabhakar in the jungles of Kalimantan, Indonesia. This photo shows an endangered orangutan reaching out to help a geologist trapped in a mud pool while exploring the forest."
The image has also been shared alongside a similar claim here, here and here. 
It has been shared more than 215,000 times after it appeared with a similar claim in English here and here, as well as in Hungarian, German and Polish. 
However, the claim is misleading.
The original photo was posted here on the Instagram page of photographer Anil Prabhakar on January 23, 2020.
In February 2020, he told CNN that the image was taken on the island of Borneo where he was on a safari with his friends in a reservation forest run by the Borneo Orangutan Survival Foundation (BOSF). 
The reservation forest is located in Indonesia's East Kalimantan province. 
In the CNN interview, Prabhakar said the man in the photo was "a warden". 
Below is a screenshot comparison of the photo in the misleading post (L) and the picture on Prabhakar's Instagram account (R):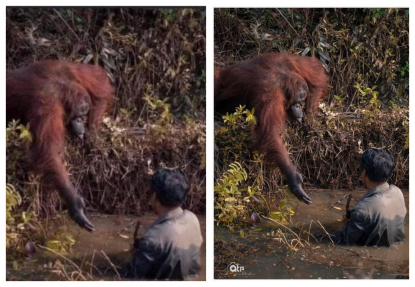 Screenshot comparison between the photo in the misleading post (L) and the picture on Prabhakar's Instagram account (R)
Jamartin Sihite, CEO of BOSF, told AFP that the female orangutan in the picture, named Anih, lives on a small man-made island at BOSF's orangutan rehabilitation centre in Samboja Lestari, East Kalimantan.
He said the man in the photo is a keeper at the reserve named Syahrul.
Describing the scene, Jamartin said that Anih "thought that Syahrul wanted to bring food, so she asked for it. At that time, he was doing maintenance, clearing the water grasses, so the water remained deep. He is not a trapped geologist."
The wild reserve also uploaded this video to their Instagram page in February 2020, explaining the story behind the picture after it went viral online. 
 

 

View this post on Instagram

 
According to the International Union for Conservation of Nature (IUCN) database, the Bornean orangutan is critically endangered.