Singapore clarifies confusion over its consulate in Malaysia after border travel curbs eased
Facebook posts that have been shared hundreds of times claim that Singapore's Foreign Ministry has recently opened a consular office in the Malaysian city of Johor Bahru. The posts — shared in November 2021, the month when the two countries eased Covid-19 travel restrictions — claim the consulate will provide support to Singaporeans who face difficulties crossing the border. But the Singaporean Foreign Ministry said the posts were misleading as its consular office in Johor Bahru has been open since 2009.
"For those who always drive across the border to Malaysia, do take note," reads this Facebook post from November 2, 2021, which has been shared more than 1,200 times.
"Singapore Ministry of Foreign Affairs opens a consular office at City Square (35th level), JB. The purpose is to attend to Singaporeans who have problems at Johor."
"JB" refers to Johor Bahru, the capital of Malaysian state Johor, near the border with Singapore.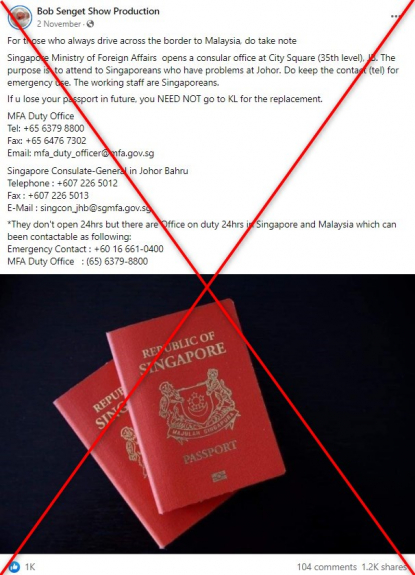 Screenshot of the misleading post, taken on December 3, 2021
On November 29, 2021, Singapore and Malaysia eased Covid-19 travel curbs on one of the world's busiest land borders, allowing vaccinated Singaporean and Malaysian citizens and those holding permanent residency status and work permits to cross the one-kilometer (0.6-mile) Johor-Singapore Causeway without having to quarantine.
Some social media users appeared to believe the claim was genuine.
"Yes thank you Singapore for caring for us! Yes, when can we go into JB and Malaysia again," one commented.
Another wrote: "thank you for the information, good job".
The claim also appeared in late November 2021 on Facebook here and here.
However, the Singaporean Ministry of Foreign Affairs (MFA) said the Facebook posts were inaccurate.
"MFA is aware of a recent Facebook post which suggests that the Singapore Ministry of Foreign Affairs recently opened a consular office in Johor Bahru and provides contact information for the office. MFA would like to clarify that the Consulate-General in Johor Bahru has been open since November 2009," it said in a Facebook post on December 5, 2021.
The ministry refuted similar misleading claims after they circulated on social media in 2019.
According to the ministry's website, Singaporeans who have lost their passport can contact the consulate general for an identity document valid for a single journey or return to Singapore.
It gives the office's address as Suite 35.02, Level 35, Johor Bahru City Square Office Tower, 106-108, Jalan Wong Ah Fook, 80000 Johor Bahru.
There have been no official reports of a new Singaporean consulate opening in Malaysia.