Image of Maradona and Platini shows both wearing shirts with anti-drugs messages
An old image of former football greats Diego Maradona and Michel Platini posing with Brazilian legend Pelé before a match  has been shared thousands of times on social media with a claim that Maradona, who had a history of substance abuse, wore a shirt with an anti-drugs message, while Platini, accused of receiving kickbacks, had a jersey condemning corruption. The claim is partly false: although Platini faced scrutiny for his financial dealings as a football administrator, the message on both his shirt, as well as Maradona's, spoke out only against drugs, and not corruption.
"In 1986 Maradona wore a shirt written ' No to drugs ' and Platini ' No to corruption '," reads a Facebook post published alongside the image. "Years later Maradona was admitted for drug use and Platini was arrested for corruption. The hypocrisy level is high (sic)".
Screenshot taken on December 1, 2021, showing the partly false Facebook post
The post has been shared more than 7,600 times since it was published on November 21, 2021. The same claim also appeared on Twitter and on Facebook here and here.
While some people commented about the purported irony, others correctly questioned the claim about the message displayed on Platini's football shirt.
Maradona's shirt reads "No Drug" on the front, while Platini's says, "Drogue No!", a reference in French to "No Drugs!". There is no reference to corruption.
AFP Fact Check debunked the same claim in French in 2019.
Photo date
A reverse image search on Google led to several photos dating back to 1988, including one on the website of AS Nancy Lorraine, a French football club where Platini signed his first professional contract.
Screenshot taken on December 1, 2021, showing the image of Nancy's website
The event was the occasion of Platini's jubilee in Nancy stadium in France, a farewell organised for the former French captain to celebrate the end of his career as a professional football player.
Furthermore, this game took place on May 23, 1988, and not in 1986 as claimed.
An image search on Google revealed that there are similar versions of the photo online. Some are cropped and others taken from different angles, but they all have one thing in common — the message inscribed on Platini's jersey speaks out against drugs and not corruption.
Further findings on the search engine led to a similar but wider shot of the same scene in the archives of American news agency Associated Press. It was taken on May 23, 1988, according to photographer Lionel Cironneau.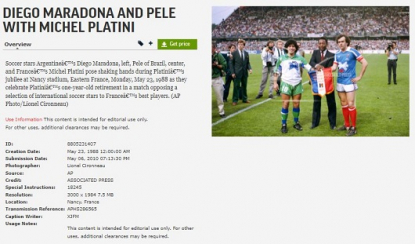 Screenshot taken on December 2, 2021, showing the image on AP's archives
"Soccer stars Argentina's Diego Maradona, left, Pele of Brazil, center, and France's Michel Platini pose shaking hands during Platini's jubilee at Nancy stadium, eastern France," reads the caption on the photo.
AFP also documented the scene at Nancy stadium, which shows the inscriptions on the jerseys of both football legends.
( AFP / ERIC FEFERBERG, CHARLES CARATINI)
Corruption charges against Platini
In 2015, Platini, who led European football's governing body from 2007 to 2015, was suspended from sport for eight years, along with his former FIFA counterpart Sepp Blatter, over a $2 million payment Platini received from world football's governing body.
Both men denied any wrongdoing in an appeal against the suspension, resulting in a reduction of the ban to six years by FIFA's appeal committee.
A further reduction of two years was subsequently granted by the Court of Arbitration for Sport. But the legal battles ended Blatter's helm as FIFA president and blocked Platini's plans to succeed him.
In 2019, Platini was questioned but not charged in another investigation by the French authorities into alleged corruption relating to FIFA's decision to host the 2022 World Cup in Qatar. 
Maradona died in 2020 at the age of 60 after battling cocaine addiction for decades, as AFP reported.
March 4, 2022 This article has been updated to add metadata.