Image of Brazilian city falsely shared as Cape Verde's capital Praia
A Facebook page known for promoting African culture posted an image of a coastal town with high-rise buildings overlooking the sea, claiming that it shows Cape Verde's capital Praia. However, this is false: the image shows Florianópolis, the capital of southern Brazil's Santa Catarina state.
The image appears in a post published by a Facebook page called "Hope For Africa" with nearly 300,000 followers.
"Good Morning Africa From Praia The Capital City Of, Cape Verde (sic)," reads the caption in the post, which has now been shared more than 160 times.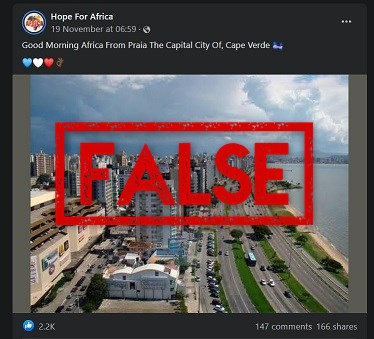 Screenshot taken on November 25, 2021, showing the false Facebook post
The page's description says it aims to promote "the African cultural heritage, while educating the young minds on African backgrounds".
Many people commenting on the post disputed the location of the city but without stating where the picture was taken.
However, a reverse image search on Yandex led AFP Fact Check to the source of the image on Flickr. 
Screenshot taken on November 25, 2021, showing the image on Flickr
The image shows Avenida Beira Mar Norte, according to photographer Rodrigo Soldon. It was taken on March 21, 2009, from the Majestic Palace Hotel in Florianópolis, Brazil.
Avenida Beira Mar Norte is an avenue in the centre of Florianópolis, a city of about half a million people.
A closer look at the image reveals the logos of Brazilian grocery store Beiramar Shopping and global fast food brand McDonald's.
With the help of Google Maps Street View, AFP Fact Check used these visual markers and others such as buildings, roads and the stretch of coastline to locate the exact spot where the picture was taken in 2009. We were able to use Street View's historical images to go back in time to 2011— the oldest date available — when the building where the McDonald's is located still featured the same "Lojas Americanas" sign under the fast food chain's logo and the same "Beiramar Shopping" sign to its left. 
Praia is located in the central Atlantic Ocean off the coast of west Africa. Although Cape Verde and Brazil have the same official language, Portuguese, the aerial view of the coastal African city as documented by AFP looks different from Florianópolis.