Kenyan politician Raila Odinga has not been named TIME magazine's 'person of the year'
An image of what appears to be a TIME magazine cover featuring veteran Kenyan politician Raila Odinga as the publication's "person of the year" has been shared on Facebook in Kenya. However, the image is not authentic; TIME magazine never ran such a cover, nor has Odinga been awarded the title.
The image was published on Facebook on October 25, 2021, and has since been shared nearly 70 times.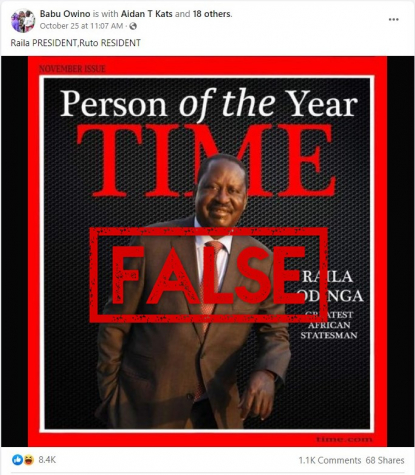 Screenshot of the false post, taken on November 11, 2021
The image, which includes a photo of Odinga under the title "Person of the Year", also features a headline that reads: "Raila Odinga, Greatest African Statesman". The post's caption reads "Raila President, Ruto RESIDENT" -- a reference to current Kenyan deputy president William Ruto. 
Odinga, a former prime minister, has been involved in politics since the 1980s and remains popular, despite losing four shots at the presidency.
Presidential elections are slated for August 2022 and Odinga is expected to challenge Ruto.
The Facebook post was published by Kenyan member of parliament Babu Owino on his official page.
The image was also shared here and here on Facebook in November 2021.
Not authentic 
A search on TIME magazine's website did not find the purported edition.
The US-based publication confirmed to AFP Fact Check that it has not honoured Odinga as its "person of the year."
"This image is not an authentic TIME cover," said a spokesman.
There are noticeable differences between the original TIME magazine covers found on the outlet's website and the one in question.
The authentic covers contain full dates in the top-right corner, while the image of the falsified version simply reads "November Issue" in the top-left corner. 
The authentic TIME magazine cover for the week of November 22-29
Mock TIME magazine covers are easy to create -- many templates exist online, featuring different styles used by the magazine over the years. 
The fabricated cover with Odinga seems to have been created from a 2016 edition featuring former US president Donald Trump.
AFP Fact Check has previously debunked claims with fabricated TIME magazine covers here and here.
No pick yet
TIME magazine's website indicates that its editors will pick its 2021 person of the year on December 8, 2021. 
Odinga does not even feature in the list of the 2021 nominees. Some notable figures nominated include Joe Biden, Narendra Modi, Xi Jinping,  Alexei Navalny, Nancy Pelosi, Donald Trump, Mark Zuckerberg, Britney Spears, Greta Thunberg, Jair Bolsonaro, John Kerry, Jeff Bezos, Vladimir Putin, Pope Francis and Antony Fauci.