Indonesian banks reject claim they are handing out cash to customers
A claim that three Indonesian banks are handing out up to 1.2 million rupiah ($84) to all their customers has circulated on Facebook. However, the banks have dismissed the claim as false. 
The claim was shared in this Facebook post on November 16, 2021.
The post's Indonesian-language caption states: "I got this info this morning. For those who have ATM cards issued by BNI, BRI and Bank Mandiri, there is Rp 600,000-1.2 million available in your balance that you can withdraw this November 2021, but register first via your cell phone. Please check because many have been able to do so. I hope this helps."
The post's photo appears to show a clerk at an Indonesian post office handing out money to a customer. 
Screenshot of the misleading post, taken on November 20, 2021
BNI, BRI and Bank Mandiri are state-controlled Indonesian banks.
The claim that they were handing out money to their customers in November also appeared in other Facebook posts, such as here, here, here and here. 
However, the link available in the caption, which the post claims to contain details to withdraw the money, keeps directing AFP to a 404 error page. 
All three banks have denied that they are handing out free money.
"We can confirm that the information has no connection with any of our credit disbursement programmes or other programmes," BNI corporate secretary Mucharom told AFP on November 17, 2021.
BRI corporate secretary Aestika Oryza Gunarto also said that the information spread by the social media posts was "untrue".
"We confirm that the information that has circulated on social media is untrue. We urge people and especially BRI customers to be more careful about information that comes from irresponsible sources," Aestika told AFP on November 17, 2021. 
When AFP contacted Bank Mandiri, a press officer pointed to two Instagram stories published on the bank's official @mandiriupdate account in November 2021.
The stories, posted in the "Klarifikasi", or "Clarification", highlight of the account, show screenshots of the free-cash claim and add a "Hoax" stamp. 
Below are screenshots of the Instagram stories. The caption in blue translates to English as: "Beware of false information that purportedly uses Bank Mandiri's name."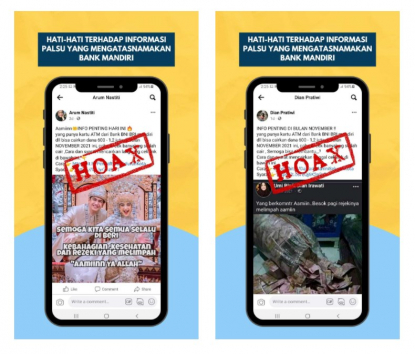 Screenshots of Bank Mandiri's Instagram stories
The photo used by the misleading post actually shows an Indonesian withdrawing social assistance at a post office in the city of Bogor on May 13, 2020, according to  this report by Indonesian news outlet Merdeka.com.