This video was taken during the G20 summit in Japan in 2019
A video has been viewed tens of thousands of times in multiple social media posts that claim it shows Indonesia's President Joko Widodo at the 2021 G20 summit in the Italian capital of Rome. The posts claim he became the "central figure" at the summit. The claim is false. In fact, the video shows the Indonesian president at the G20 summit in 2019, when the Japanese city of Osaka hosted the event.
The video was shared in this tweet on November 1, 2021. It has been viewed more than 180,000 times.
The footage shows Indonesian President Joko Widodo, popularly known as Jokowi, with Indonesian Finance Minister Sri Mulyani Indrawati.
The tweet reads: "Morning spirit. Special reporter Finance Minister Sri Mulyani interviewed President @jokowi, who became the central figure of the G20 summit because Indonesia will hold the presidency of the G20, replacing Italy. Live report from Rome!"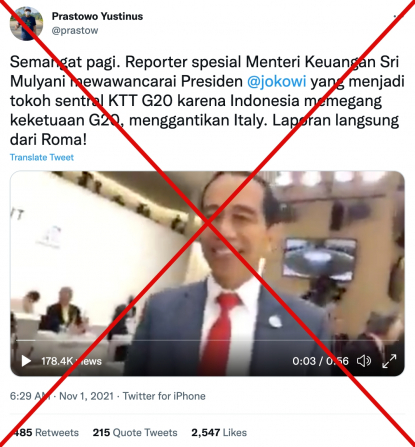 Screenshot of the misleading post, taken on November 5, 2021
Jokowi attended the G20 Summit in Rome in late October 2021, where Indonesia officially assumed the presidency of the grouping. 
Indonesia is set to host the G20 summit in 2022 on the island province of Bali.
The clip has received thousands of views in posts that shared a similar claim on Twitter here, here and here; on Facebook here, here, here and here; and on YouTube here.
However, the claim is false.
A reverse image search on Yandex, followed by keyword searches on Google, found this video, dated June 29, 2019, on the official Instagram account of Finance Minister Sri Mulyani. 
 

 

View this post on Instagram

 
Translated to English, the first three paragraphs of the video's caption says: "The second day the leaders of the G20 summit discussed Inequalities and Realizing Inclusive and Sustainable World. 
"I took the time to vlog with Indonesian President Joko Widodo @jokowi.
"Apart from that, we also discussed the importance of Women Empowerment."
The post ends with: "Osaka, June 29, 2019".
At the video's 49-second mark, the words "G20 OSAKA SUMMIT 2019" can be seen in the background.
Below is a screenshot comparison of the video in the misleading post (L) and the genuine video from 2019 (R), with the event's name circled in red by AFP: 
Screenshot comparison of the video in the misleading post (L) and the genuine video from 2019 (R)
Indonesian media outlets, including Liputan 6 here and Suara Karya here, reported that the video was filmed in Osaka in 2019.