Old video of Julius Malema condemning attacks on foreigners in South Africa is shared out of context
A short video shared on Facebook shows South Africa's Economic Freedom Fighters (EFF) party leader Julius Malema saying that "Zulus must go back to Natal", referring to KwaZulu-Natal province, home to the largest Zulu population and the Zulu royal house. But the clip is taken out of context: the author of the post published only a few seconds of a 77-minute video, misleading viewers into thinking that Malema was inciting other ethnic groups to eject Zulus from their regions. In the original video, the EFF leader condemns attacks on foreign nationals and warns South Africans that once they are done attacking foreigners, they will turn against each other.
The video was published on Facebook on November 2, 2021, and has since been shared 100 times.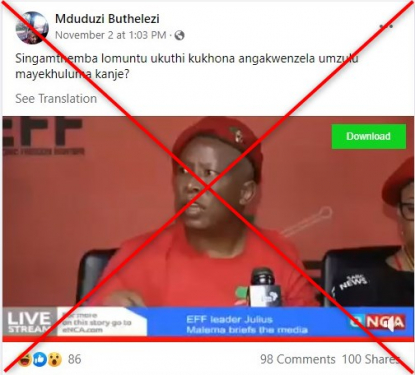 Screenshot of the post, taken on November 3, 2021
The video's caption, written in the local isiZulu language, translates to: "Can we trust this man to do anything for the Zulu people when he speaks ill of us ?"
The six-second video features Malema saying, "The reason we don't have jobs here is because of these Zulus, they must go back to Natal". 
Malema hails from Limpopo province, while Zulu people are historically from KwaZulu-Natal province.
The video was published just a day after South Africans voted in the local elections where Malema's EFF party was competing for seats against several other political parties. The official results of the November 1, 2021, elections are yet to be released.
Malema speaks against xenophobia
In the original, full-length video, which was posted online by South African broadcaster eNCA in November 2019, Malema condemned attacks against foreign nationals, saying the incidents were crimes perpetrated by South Africans.
"I'm not going to be part of stoning my own brother [...] When you are done with Nigerians, when you are done with Mozambicans, Zimbabweans and Zambians, you are going to go for Tsongas from Giyani. I have to stop you now before you come to me," Malema said at minute 55 into the 77-minute-long video.
The original video puts into context what Malema said during the presser: he did not incite people from other South African provinces against the Zulus, as the misleading Facebook posts suggest. Instead, he condemned xenophobia.
Between minutes 55 and 57 of the video, the EFF leader says: "When they are done, they are coming for you. They are going to say no, the reason we don't have jobs here is because of these Zulus, they must go back to Natal; the reason we don't have jobs here is because of these Xhosas, they must go back to the Eastern Cape… because there will be no [more] foreigners to fight, but poverty will remain..." 
Back in 2019, Trevor Noah, a comedian born in South Africa who is a TV host in the US, tweeted a section from the video and wrote: "I don't always agree with Julius Malema but this statement on Xenophobic attacks in SA is perfect."