This video shows a shrine of a Sufi master in Baghdad
A video has been viewed over a million times on multiple platforms alongside a claim that it shows Prophet Mohammed's tomb. The claim is false: the video actually shows the shrine of Sufi master Abdul Qadir Al-Jilani in Iraq.
The three-minute video, which shows several men praying in front of a tomb, was posted here on TikTok on October 21, 2021.
It has been viewed more than 1.2 million times.
Screenshot of misleading post, taken on October 27, 2021
The caption reads: "Prophet  Mohammed's tomb #viral #fyip #fyi #trending #HIT".
The text overlaid on the video reads: "The beauty the Prophet's Tomb". 
The video has been viewed alongside a similar claim more than 9,400 times on TikTok here and here, on Facebook here and here, on Twitter here and on YouTube here.  
However, the claim is false. 
A combined Google reverse image and keyword search found a longer video was posted here on YouTube on August 22, 2021. 
Translated from Arabic, the video's title reads: "The Holy Shrine + Abdul Qadir Al-Jilani - May his soul rest in peace."
Abdul Qadir Al-Jilani is a Sufi master who died in 1166 and buried in the Iraqi capital, Baghdad.
The shrine's location can be seen on Google Maps here. 
At the 43-second mark in both clips, a blue cloth with Arabic text can be seen covering the tomb.
Translated to English, it reads: "Under the guidance of the president of Turkey Recep Tayyip Erdogan, this shrine's curtain was offered as a present to [cover] the tomb of Abdul Qadir Al-Jilani by the Turkish Cooperation and Coordination Agency TIKA after being prepared in Istanbul in 1440 Hijri". 
The Islamic year 1440 Hijri began in September 2018 and ended in August 2019. 
Below is a screenshot comparison between the video in the misleading post (L) and the genuine video on YouTube (R):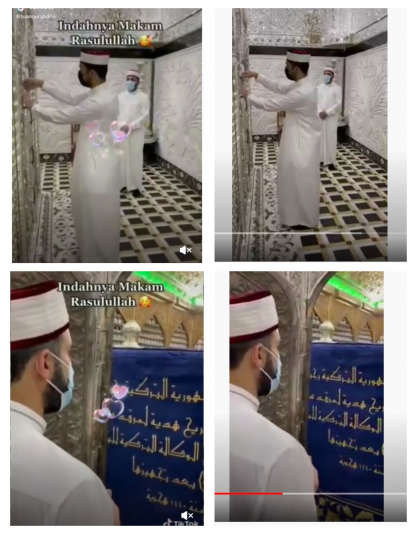 Screenshot comparison between video in the misleading post (L) and the genuine video on YouTube (R)
Another video in higher definition, posted on YouTube here on August 18, 2021, shows the same scenes as the clip in the misleading post.
The title reads: "Look at the opening of the shrine of the king of Sufi masters Sheikh Abdul Qadir Al-Kilani."