France has no plan to resume military deal with Ethiopia following diplomatic row with US
Several posts circulating on Facebook in Ethiopia claim that France will renew a deal to supply Ethiopia with missiles and ignore US sanctions in the process in response to a diplomatic spat over a submarine contract involving America and Australia. This is false; the French government, which suspended a 2019 agreement on military cooperation with Ethiopia due to the ongoing conflict in the northern region of Tigray, denied pushing ahead with the deal.
The post was published on Facebook on September 18, 2021, and has been shared dozens of times since.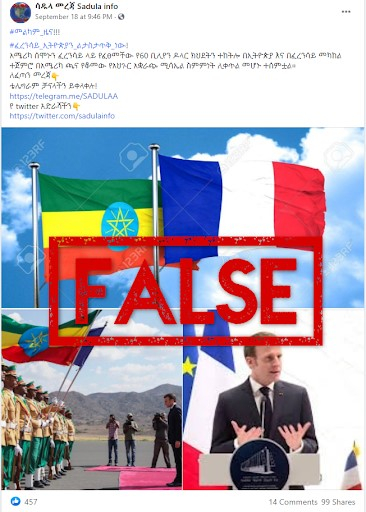 Screenshot of the false Facebook post, taken on September 23, 2021
"Great news! France is going to arm Ethiopia! Following America's betrayal of France regarding a 60 billion dollar deal, the ballistic missile deal between Ethiopia & France previously interrupted by America's pressure is about to resume," reads the post's Amharic-language caption.
Tensions between France and the United States escalated after Australia signed a multi-billion euro agreement with the US for nuclear-powered submarines, thus ending its previous conventional submarine contract with France.
The same claim was also widely shared on Twitter here and here.
The post surfaced on Facebook soon after US President Joe Biden signed an executive order to sanction parties at war in the Amhara and Tigray regions in Ethiopia and in Eritrea if they failed to commit to a negotiated settlement.
Ethiopian Prime Minister Abiy Ahmed sent troops into Tigray in November 2020 to topple the Tigray People's Liberation Front (TPLF), which at the time was the ruling party in Tigray.
Incursions into neighbouring Afar and Amhara regions have displaced hundreds of thousands and killed an untold number of civilians.
In response to the sanctions, Abiy sent an open letter to Biden, expressing his discontent over the US government's actions. The letter was published both on Facebook and Twitter.
However, the claim that the French government announced it would restart a deal to provide the Ethiopian army with ballistic weapons is false.
Military deal suspended
In contrast to the post's claim, France took measures against the Ethiopian government and announced it would suspend the deal made with Ethiopia in March 2019.
Looking to strengthen economic, military and cultural ties and to counter China's expanding influence in Africa, Macron had pledged a loan of 85 million euros ($96 million) to Ethiopia to support the establishment of a navy for the landlocked country. However, due to the ongoing conflict in Tigray, France halted the deal.
An official at the Quai d'Orsay said that France suspended military cooperation with Ethiopia on July 2, 2021.
"This is false. In the context of the ongoing conflict in the Tigray, France suspended all military cooperation with Ethiopia on 2 July 2021, including the transfer of equipment. Furthermore, we have suspended the ratification of the military cooperation agreement. France continues to work with its partners to put a stop to the violence, protect civilians and foster the resumption of dialogue," the spokesman told AFP Fact Check.
Macron and Abiy in 2019 at the signing of a military cooperation agreement that has since been halted by France ( AFP / Ludovic Marin)
Furthermore, in May 2021, the French embassy in Addis Ababa denied claims that weapons were exported to Ethiopia and affirmed that "no arms sales have been concluded in recent years".
Recent allegations on social media regarding arms exports from #France to #Ethiopia are false. No arms sales have been concluded in recent years.

— French Embassy in Addis Abeba (@AmbafranceET) May 28, 2021
AFP Fact Check previously debunked a similar claim that Iran sold Russian-made weapons to Ethiopia in July 2021.