This photo shows an anti-government protest in Algiers before the Covid-19 pandemic
A photo of crowds gathered in the street is doing the rounds in Facebook posts claiming it shows a "revolution" against Covid-19 restrictions in Algeria. The claim is false; the photo shows a March 2019 protest in the capital Algiers against the re-election of former president Abdelaziz Bouteflika. The picture was taken nearly a year before the first Covid-19 case was detected in Algeria in February 2020.
This article contains strong language
The photo shows crowds packed in the street as men waving an Algerian flag watch from a platform.
"REVOLUTION IN ALGERIA. No work, no transport, no schools, no businesses.... Everyone on the streets including police and army until the rotten government goes home. People power," reads a screenshot shared on Facebook on July 20, 2021.
The post's caption reads: "Snap the fuck out of it people, take the masks off!!!"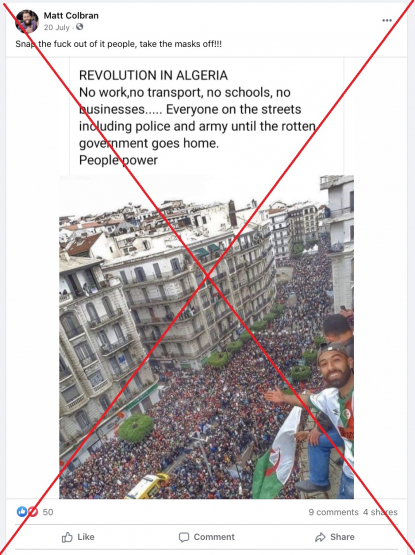 Screenshot of the misleading post, taken on October 4, 2021.
The photo was shared alongside a similar claim here, here and here on Facebook.
It also appeared with a similar claim in Polish here.
However, the claim is false.
Algeria detected its first case of Covid-19 in February 2020.
But, a Google reverse image search found the photo had already circulated online nearly one year earlier.
The picture was posted on Facebook on March 9, 2019, with an Arabic-language caption that reads: "From today's million march in the capital 08/03/2019. Rejection of the system and the fifth term."
A Google search for the phrase "million march Algeria" led to articles about anti-government protests against the re-election of then president Abdelaziz Bouteflika, who was seeking a fifth term after two decades in power.
Bouteflika resigned on April 2, 2019, following weeks of mass demonstrations. He died on September 17, 2021.
BBC Arabic also shared photos of the protests in an article on March 12, 2019.
A tweet in the article features the image in the misleading post. "Arab countries need real revolutions," reads the Arabic-language tweet.
The image was also published by French news site Mediapart and the Canadian International Socialists website.
An AFP journalist in Algiers recognised the street in the photo as Avenue El Khettabi, and identified a branch of alBaraka Bank, highlighted in red below.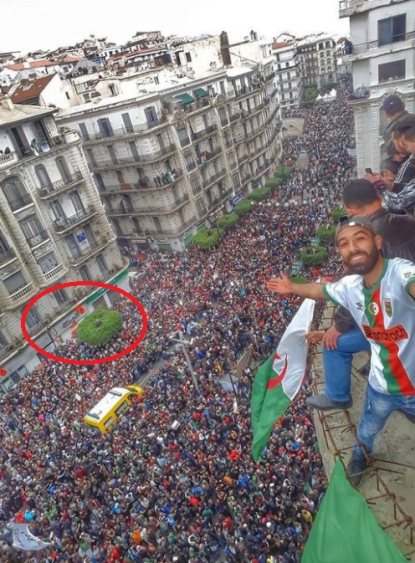 Photo of the 2019 protest, AFP has marked the branch of alBaraka Bank in red.
A search for protests in Algiers on March 8, 2019, led to this BBC video report.
At the 20-second mark, protesters can be seen marching past the alBaraka Bank next to the Oppo shop, as seen in the image circulating on social media.