The man in this video is a Pakistan-based Islamic cleric -- not a Taliban leader in Afghanistan
A video has been shared repeatedly in Facebook posts that claim it shows a Taliban leader in Afghanistan praising India's ruling political party and a right-wing Hindu group. The claim is false: the footage -- which has circulated online since 2019 -- shows a Pakistan-based Islamic cleric discussing the origins of the political party and the Hindu group.
"Taliban accepted that RSS and BJP are more powerful in India when BJP will be in India no country can attack India," reads a Facebook post published on September 12, 2021.
BJP refers to India's ruling Bharatiya Janata Party, of which right-wing Hindu nationalist organisation RSS is the ideological parent.
The five-minute video shows a man speaking in Urdu.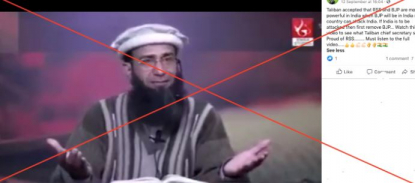 Screenshot of the false claim shared on Facebook, taken on September 28, 2021
India strongly backed the government that took over in Afghanistan when the Taliban was originally ousted, earning them hatred and enmity from the hardline Islamist group.
The video circulated online after the Taliban seized control of Afghanistan in 2021.
The same video was shared in Facebook posts alongside a similar claim here and here.
However, the claim is false.
A Google reverse image search of the clip found it was taken from a longer video posted on YouTube on August 3, 2021.
It was uploaded by a channel for Pakistan-based Islamic cleric Khalid Mehmood Abbasi.
The video is titled: "The worsening situation in India".
The text at the top of the screen reads: "What is the real agenda of extremist Hindus?"
Text superimposed on the footage states it was recorded on March 1, 2019.
Screenshot of the video posted to YouTube, taken on September 28, 2021
In the clip, Abbasi discusses the origins of the BJP and RSS.
He refers to the BJP's Narendra Modi -- India's prime minister -- as a "declared terrorist" and to the RSS as a "semi-militant type of movement".
According to Abbasi's Facebook biography, he is a Pakistani Islamic scholar and currently serving as the head of an Islamic organisation Shubban ul Muslimeen.
He has no known affiliations with the Taliban.
The Taliban's supreme leader is Hibatullah Akhundzada, according to an AFP report from August 28.
AFP has debunked a string of inaccurate social media posts about the Taliban's rise to power in Afghanistan.