Covid-19 vaccination not required to shop at Walmart in Canada
Social media posts claim that proof of Covid-19 vaccination will be required to shop at Walmart stores in Canada starting on November 1, 2021. But the retail giant told AFP the statement circulating online is false.
"Proof Of Vaccination Required," says text in an image featuring a Walmart logo shared in a September 12, 2021 Facebook post.
"EFFECTIVE NOVEMBER 1ST, 2021 SHOPPERS WILL NEED TO PROVIDE PROOF OF VACCINATION AND GOVERMENT ISSUED ID TO ENTER ANY WALMART IN CANADA," continues what appears to be an official statement from the company, which has stores across the country.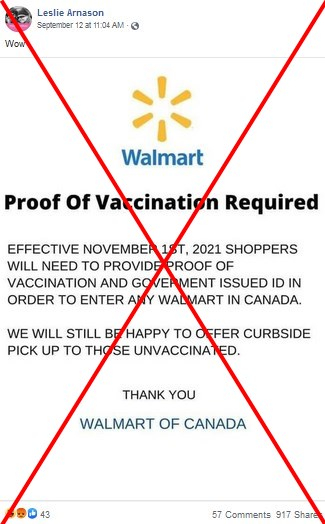 Screenshot of a Facebook post taken on September 14, 2021
Other examples of the same claim appeared on Facebook here, here and here. It is also circulated on Instagram here and here.
But Adam Grachnik, director of corporate affairs at Walmart Canada, told AFP that "this information is not true."
"Customers do not have to show proof of vaccination to shop at our stores. We continue to work with governments across the country and are following required restrictions," he added.
The official Walmart Canada Twitter account replied with a similar statement to an inquiry about potential proof of vaccination requirements at the stores.
Screenshot taken on September 14, 2021 of Walmart Canada's response to a question about vaccination requirements on Twitter
Proof of vaccination is needed to access certain services in some Canadian provinces, but is not required at grocery stores or pharmacies.
Quebec, British Columbia and Manitoba already have such requirements in place, and Ontario will implement its own version on September 22. These measures are enforced provincially, not federally.
More than 73 percent of the Canadian population has received at least one Covid-19 shot, while almost 68 percent of the population is fully vaccinated.
AFP Fact Check has debunked other false or misleading claims about Walmart here.