Artwork photo misused anew in misleading posts about gene research in Japan
A disturbing image that appears to show creatures with both human and animal features has been shared in Facebook posts about scientists in Japan performing genetic experiments. However, the posts are misleading; while the Japanese government approved the first human-animal embryo experiments in 2019, the image shows an art installation by an Australian artist.
The image has been shared more than 1,000 times since it was posted here on Facebook on September 9. 
"The Japanese government has permitted zoological scientists to mix human and animal genes to create a new animal generation," reads Sinhala-language text superimposed on the picture.
"The aim of this is to create organs needed for humans. Just think what the future world will look like. Imagine, in another 100 years, we'll be seeing animals with different faces walking all over roads."
Screenshot of the misleading post captured on September 9, 2021
The post appears to refer to the Japanese government's approval of the first human-animal embryo experiments in 2019, science journal Nature reported.
Scientists intended to grow human cells in mouse and rat embryos with the goal of producing organs that could be transplanted into people, according to the report.
The same image was shared in similar Facebook posts here, here and here.
Some social media users appeared to believe the image showed a genuine creature.
"That's so cruel...how could they," one person commented.
"This is unnecessary," another said.
However, the posts have shared the image in a misleading context.
'Disturbing' artwork
A reverse image search on Google found the image shows an art installation called "The Young Family" by Australian artist Patricia Piccinini. 
The photo caption on Artsy, an online site that publishes collections of artworks, reads in part: "Sierra Leone-born Australian artist Patricia Piccinini is known for her transgenic menagerie of disturbing, hyperrealistic creatures.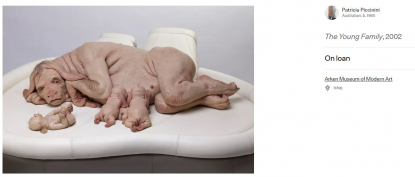 Screenshot of the artwork on Artsy, taken on September 14, 2021
"Constructed from silicone and fiberglass, these hybrid sculptures investigate the potential rise of new and troubling developments through the advance of biotechnology and genetic manipulation, as in The Young Family (2002–03), a grotesque, wrinkly human-sow and her suckling offspring, made of silicone, acrylic, and materials like human hair and leather," it reads.
The art installation also featured on Piccinini's official website here and in this news report from September 2018.
AFP has previously debunked social media posts that have misrepresented the artwork.
"Patricia does not endorse the use of unauthorised photographs of her work, especially in these kinds of ridiculous scams," Roger Moll, studio manager for Paccinini, told AFP in December 2020.