Posts about 'plans for cashless system' in Australian state share fake press release
Social media posts circulating in September 2021 claim the Australian state of New South Wales announced plans to establish a "cashless society by 2022" in order to reduce the spread of Covid-19. However, the claim is false. The posts share a fake press release and a government spokesperson told AFP that the reports were baseless.
The Facebook post was published on September 1, 2021.
It features a screenshot of a document titled "Media release" with a purported header from the office of Gladys Berejiklian, the premier of the Australian state of New South Wales. The document is dated August 30, 2021.
The title reads: "Reducing Community Transmissions: NSW Looks Towards Establishing a Cashless Society in 2022".
"Premier Gladys Berejiklian announced today that residents living in NSW will have to become accustomed to living differently to reduce the transmission of COVID-19. Specifically, she announced that cash transactions have been linked to increased community transmissions of COVID-19," the text reads.
"Residents should be prepared to conduct transactions using a virtual currency, much like the digital currencies which have been successfully used in China".
The Facebook post's caption reads in part: "Ah yes, I hate it when things I speak become realities".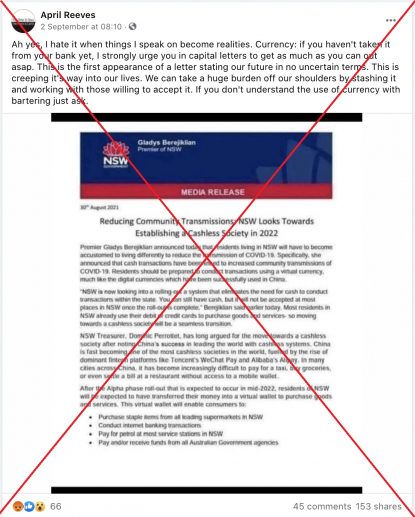 A screenshot of the misleading Facebook post as of September 9, 2021.
The purported media release was also shared alongside a similar claim in Facebook posts here and here; as well as on Instagram and Reddit.
However, the claim is false.
'Fake' announcement
A spokesperson for the NSW Department of Premier and Cabinet told AFP on September 10, 2021 that the purported media release was "fake".
A Google search of the media release's header did not reveal any related documents.
AFP also found no such announcement in an online search of releases on the NSW government website.
Virus transmission
Hoaxes about purported bans on cash payments have circulated on social media throughout the pandemic alongside concerns about possible virus transmission.
However, according to a study by the European Central Bank in July 2021, the risk of contracting Covid-19 by touching cash is minimal.
"Although citizens reported using cashless in transactions partly out of fear of infection, research confirms that the risk of the virus being transmitted by banknotes and coins is very low," the study reads.
"This supports the findings from the scientific community concluding that SARS-CoV-2 mainly spreads via respiratory fluids and airborne transmission, and that surfaces play a very minor role".