Photo of man with wheelbarrow does not show Chelsea and French football star N'Golo Kante
A photo of a man with a wheelbarrow has been shared thousands of times on social media in Africa and beyond, alongside a claim that it shows French-born football star N'Golo Kante in 2009 before he became famous. But this is false: contacted by AFP Fact Check, Kante's former trainers confirmed the person in the image was not the Chelsea midfielder.
The photo of the man next to a wheelbarrow piled with sugarcane has been widely shared as part of photomontages, which also feature Kante.
In one version, he is seen lifting the 2020 UEFA Champions League trophy with English Premier League club Chelsea. In another, he hoists the World Cup trophy with the French national team.
Reverse image searches on different platforms like Yandex, Google and TinEye show pages upon pages of the photo being used in different countries and languages across the globe.
It most recently surfaced in a Facebook post in the Democratic Republic of Congo.
"The N'golo Kanté of yesterday, is no longer the N'golo of today," reads the French-language post, which has been shared nearly 600 times since it was first published on August 26, 2021.
Screenshot of the false post, taken on September 7, 2021
It has also been circulating in Nigeria, including here, here and here.
Screenshot of the post, taken on September 9, 2021
"In 2009 Ngolo Kante was just a sugar cane seller in his locality. He worked so hard to meet up with his basic need in life. However, his life transformed after he embraced his career as a footballer. Within a space of 10 years, Ngolo Kante's life was transformed from selling sugarcane to winning the World Cup in Russia (sic)...," reads the caption on a post published in October 2020.
AFP Fact Check also spotted the photomontage in South Africa, Tanzania, India, the United Kingdom, and Bangladesh.
It has found its way into foreign-language articles, including in Kinyarwanda and in Italian.
Wheelbarrow man not Kante
Using reverse image searches, AFP Fact Check found that the two photos have been widely shared online since at least 2019.
AFP Fact Check spoke to Karim El Moudkhil, Kante's former sports educator in Rueil-Malmaison, as well as to Christophe Raymond, his former trainer when he was a reservist in Boulogne-sur-Mer.
Both men confirmed that the man with the wheelbarrow was not Kante. Assuming that the unknown person in the photo is in his early twenties, "it can't be him, since he was already playing football with Boulogne", confirmed El Moudkhil.
Despite several reverse image searches using different search engines, AFP Fact Check could not trace the origin of the photo of the young man in sandals. The photo does not appear to have been taken in France. If readers have further clues, they can contact us here.
Kante's background
Kante was born and raised in the Parisian suburb of Rueil-Malmaison.
He joined Suresnes football club in the Western suburbs of Paris at age 9 and played for the club until he was 19.
After stints at two other French clubs, he made a switch to English side Leicester at the age of 24 before moving to Chelsea in July 2016 where he currently plays as a midfielder.
Photos on the right show Kante
The images of Kante taken during the Champions League and World Cup finals respectively were both taken by AFP photographers.
The photo used in the first photomontage shows the 30-year-old footballer after Chelsea defeated Manchester City 1-0 in the Champions League final on May 29, 2021, in Porto, Portugal.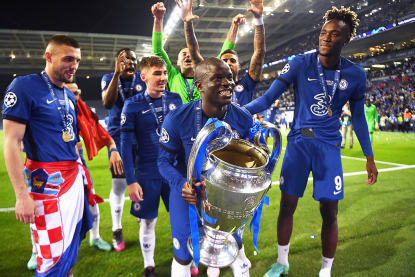 Chelsea's French midfielder N'Golo Kante (C) lifts the trophy after winning the UEFA Champions League final football match in Porto on May 29, 2021. ( POOL / DAVID RAMOS)
The photo in the second montage showing Kante on his knee while hoisting a trophy was taken during the 2018 FIFA World Cup when he was with the French national team after the Les Bleus defeated Croatia 4-2 in the finals held in Russia.
N'Golo Kante holding the world cup trophy in Russia in 2018 ( AFP / FRANCK FIFE)