This video of a man firing a machine gun has circulated online since at least 2019
A video has been viewed tens of thousands of times in Facebook, Twitter and Weibo posts that claim it shows Taliban fighters firing a heavy machine gun left by US forces after their evacuation of Afghanistan in August 2021. The claim is false: the video has circulated online in Arabic-language posts since at least 2019.
The video was shared in this simplified Chinese-language tweet on September 8. It has been viewed more than 100,000 times.
The caption translates to English as: "The Taliban fighters were ecstatic when they got the US automatic heavy machine gun weapon presented by Mr Biden.
"The test-firing was successful, killing 17 of them".
The clip shows a group of men firing a machine gun on a tripod.
Suddenly, they appear to lose control of the weapon and it begins firing uncontrollably.
Screenshot of the misleading tweet taken on September 8, 2021
The video was shared alongside a similar claim on Facebook and Weibo after the Taliban seized power in Afghanistan and the US military withdrew from the country.
However, the claim is false.
AFP found a longer version of the same video published on YouTube on March 8, 2019.
The title reads: "An Iraqi man shooting!"
Corresponding images to what is shown in the misleading posts can be seen from the YouTube video's 26-second mark: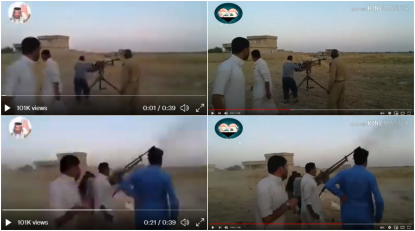 Screenshot comparisons of the video shared in the misleading posts (L) and the video uploaded on YouTube in 2019 (R)
An AFP journalist said the men in the video can be heard speaking Arabic in a dialect that originates from western Iraq.
The man showing people how to use the weapon can be heard saying: "Film please" and "Shoot the flag!"
After the accident, a man off-camera can be heard saying: "No, no one is wounded".
The same video was also shared in 2019 here and here on YouTube and here on Twitter.