This photo shows controlled detonation of damaged US military aircraft in Iraq in 2008
Multiple posts on Facebook shared an image of a burning aircraft along with a claim that it shows a US military plane that crashed in Afghanistan in the wake of Taliban's takeover of Kabul in August 2021. The claim is false; the image actually shows a controlled detonation of a damaged US military aircraft at an air base in Iraq in 2008. There are no credible reports about an airplane crashed in recent weeks in Afghanistan.
The image has been shared here on Facebook on August 28, 2021.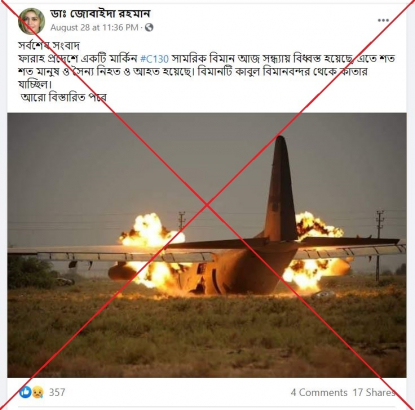 Screenshot of the misleading post, taken on September 1, 2021
The Bangla-language post reads: ''Latest news. A US C130 military aircraft crashed in Farah province this evening. Hundreds of people including soldiers have died and been wounded in this incident. The aircraft was going from Kabul Airport to Qatar.''
Farah province is located in the southwestern part of Afghanistan.
Many Afghans have been fleeing the country, some were evacuated with US aircraft, following the withdrawal of US military and the Taliban's capture of Kabul in August 2021.
The image was also posted with a similar claim here, here and here.
It also circulated with a similar claim in English here and here.
However, the claim is false.
A reverse image search on Google found this photo, dated July 7, 2008, on the website of stock photography agency Alamy.
The photo's caption reads, "Explosive Ordinance Disposal personnel from the 447th Expeditionary Civil Engineer Squadron at Sather Air Base, Iraq, detonate explosives to detach the wings from the body of a C-130 Hercules here July 7. The EOD team is using a series of controlled detonations designed to divide the airplane into smaller pieces so it can be easily moved. The C-130 made an emergency landing in a field north of Baghdad International Airport shortly after take-off June 27."
The photo is credited to Tech. Sgt. Jeffrey Allen.
Below is a screenshot comparison of the image in the misleading post (L) and the photo on Alamy's website (R):
Screenshot comparison of the image in the misleading post (L) and the photo on Alamy's website (R)
US Air Force published a report and photos of the controlled detonation at Sather Air Base in Iraq, on its website here on July 11, 2008.
The photos are also credited to Tech. Sgt. Jeffrey Allen.
The first two paragraphs of the report read: "Airmen used explosives to dismantle a C-130 Hercules stuck in a barren field northeast of Baghdad International Airport, July 7.
"The transport aircraft has been there since June 27, when its crew was forced to perform an emergency landing. The aircraft was deemed a security concern and it was decided that it would be easier to transport if it were dismantled."