This footage shows an explosion in the Gaza Strip, not Afghanistan
A video has been viewed tens of thousands of times in Facebook posts that claim it shows a suicide bombing that killed scores of Afghan civilians and 13 US troops at Kabul airport on August 26. The claim is false; the footage actually shows an explosion in the Gaza Strip on August 21.
"Death toll rises to 72 after three consecutive blasts in Kabul, IS claims responsibility," reads a Bengali-language Facebook post from August 26.
The video of a powerful explosion and smoke rising into the night sky has been viewed more than 34,000 times.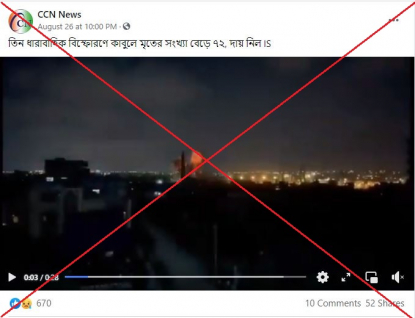 The video was shared widely on social media alongside the same claim, including in English, Italian, French and Portuguese posts, while Bangladeshi broadcaster ATN Bangla used the clip in its report on the Kabul blast.
A suicide bomber targeted a throng trying to flee Taliban-controlled Afghanistan on August 26 in a blast that killed at least 85 people, including 13 US servicemen. The Islamic State group said it was behind the attack.
However, the video shared in the posts does not show that attack.
A Google reverse image search found the video clip has been circulating online since August 21, five days before the Kabul airport blast.
The video was published in a report by Argentinian news portal Minuto Uno on August 21.
The headline reads: "Israel opens fire in the Gaza Strip: 42 wounded, including a Palestinian boy".
A further keyword search found the footage was shared in this tweet from Al Jazeera's Arabic-language Twitter account on August 22, 2021.
The tweet reads: "The first scenes of the Israeli raids on Palestinian sites in the Gaza Strip".
Below is a comparison of the footage in the misleading Facebook post and the Al Jazeera tweet.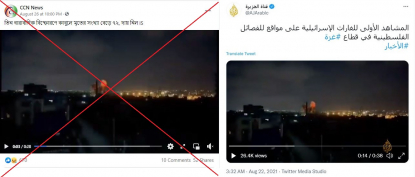 The same video has been posted here on YouTube by Syrian broadcaster Orient TV and here on by Gaza Now.
Israel launched attacks on the Gaza Strip after young Palestinians hurled firebombs and tried to scale the Gaza border wall on August 21.
Furthermore, the video shows an explosion at night, while images of the Kabul airport attack show it happened during the day.