Lithuania refutes false online claim it will provide special immigration pathway to Hong Kongers
Multiple social media posts shared in August 2021 claim that Lithuania will provide a special immigration pathway for Hong Kongers, regardless of which passport they have or their visa status. The posts -- shared hundreds of times -- circulated online after the political situation in the territory prompted an exodus of Hong Kongers. However, both Lithuania's Honorary Consul in Hong Kong and the Lithuanian government told AFP the claim was false.
The claim was shared in this simplified Chinese-language Twitter post on August 16, 2021.
It has been retweeted more than 400 times.
It translates in part as: "Please tell Hong Kong friends: Whether or not you have a visa or passport, as long as you can reach Lithuania, the Lithuanian government will accept all of you unconditionally, and will provide you with board and lodging and help you travel to other EU countries. You can also stay in Lithuania."
The claim was shared alongside this AFP photo of people attending a candlelight vigil in Hong Kong's Victoria Park on June 4, 2019.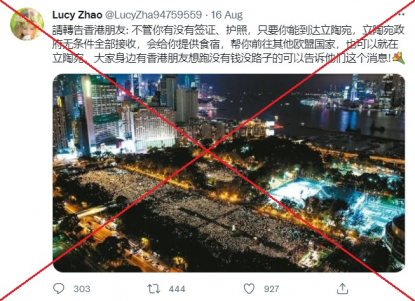 Screenshot taken on August 26, 2021, of the misleading Twitter post
Since the imposition of a new national security law last June, an increasing number of democracy activists and politicians have fled Hong Kong and gone into exile, as China tightens its grip on the semi-autonomous city. AFP reported on the developments here.
The political situation has also prompted an exodus of ordinary Hong Kongers, many of whom are taking up immigration plans offered by places including the UK, Canada and nearby Taiwan.
A similar claim was shared multiple times on social media, including here on Facebook, and here on Gettr.
The claim is false.
When asked by AFP if Hong Kongers were allowed to enter the country without a visa or passport -- including as refugees -- a spokesperson for Lithuania's migration department said this was not true. 
The spokesperson confirmed Lithuania does not provide Hong Kong immigrants with housing or help them travel to other EU countries in an email on August 25, 2021.
Raj Sital Motwani, Honorary Consul of the Republic of Lithuania to Hong Kong and Macao, said all arrivals in Lithuania must adhere to EU regulations. 
"The claim is not true," he wrote in an email on August 20, 2021. "All visitors to Lithuania need to abide by EU regulations as Lithuania is one of the 27 members of the European Union."