This 2003 photo from Iraq has been digitally manipulated
Facebook and Twitter posts share a photo showing burqa-clad women chained in the streets which they claim shows Afghanistan after the Taliban seized control in August 2021. The claim is false: the image has been doctored to add a steel chain; the original image actually shows Iraq in 2003.
The misleading image was posted here on Facebook on August 19, 2021, where it has been shared hundreds of times.
The image shows three women wearing burqas and walking in chains behind a man.
The post's Hindi-language caption translates to English as: "in Afghanistan, Mehmud Ghazni once sold Hindu girls, today on the same land Muslim women are being sold for pennies."
Mehmud was an eleventh-century ruler of Ghazni province in Afghanistan.
( Uzair RIZVI)
The image circulated online after Taliban fighters took control of the Afghan capital Kabul, ousting the US-backed government, on August 15, 2021, as AFP reported here.
The photo has also been posted here and here on Facebook; here and here on Twitter alongside a similar claim.
However, the claim is false.

A reverse image search found the original photo was published here in 2006. In the original image, there is no chain holding the women.
The caption on the photo says: "this photo was taken in Baghdad. The man and his women walking to the city center."
Below is a screenshot comparison of the misleading post's photo (L) and the original image (R):
( Uzair RIZVI)
The website said that the image was taken by Murat Düzyol in 2003.
AFP spoke to Istanbul-based Düzyol on August 24, who confirmed that it was his image from Iraq, which was taken in 2003, and that it had been manipulated.
He gave this statement to AFP:
"I took the photo you mentioned in 2003 in Iraq. A commemoration and condolence ceremony was held for Iraqi civilians who were killed after a Friday prayer in the city of Erbil in Northern Iraq. As people were returning to their homes after the ceremony, such a composition randomly appeared on the street. It's a completely instant snapshot and completely natural. The women obviously knew each other, but I'm not sure they knew the man."
"Unfortunately, many of my photos have been manipulated. But this photo is mostly circulating on social media. I have warned many people about this many times. But the result did not change."
He also shared the original image with AFP. The EXIF data of the image, seen in the screenshot below, shows the image was taken on February 28, 2003.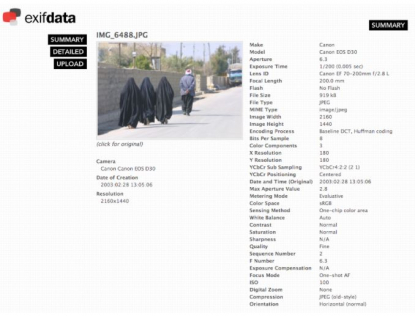 ( Uzair RIZVI)