Misleading posts about 'Australia buying fake vaccines from Poland' misuse news report
Shortly after Australia announced that it had purchased Pfizer-BioNTech Covid-19 vaccines from Poland, Facebook users began sharing a BBC news report about fake jabs in the European country. These posts are misleading and have misrepresented the news report. The BBC reported in April that Polish authorities found no one had received the fake doses. Pfizer-BioNTech vaccines that arrived in Australia from Poland have been found "satisfactory for release" by drug regulators.
"Coronavirus: Pfizer confirms fake versions of vaccine in Poland and Mexico," reads a screenshot of a BBC report shared on Facebook on August 15.
The screenshot forms part of a collage alongside another image showing a tweet from Australian Prime Minister Scott Morrison in which he announced "an extra 1 million Pfizer vaccine doses will soon land in Australia after we secured a deal with Poland."
In both images, the word "Poland" had been underlined in red.
"Oh dear, another own goal? Why didn't he buy Pfizer Vaccines like every other Country," reads the post's caption in part.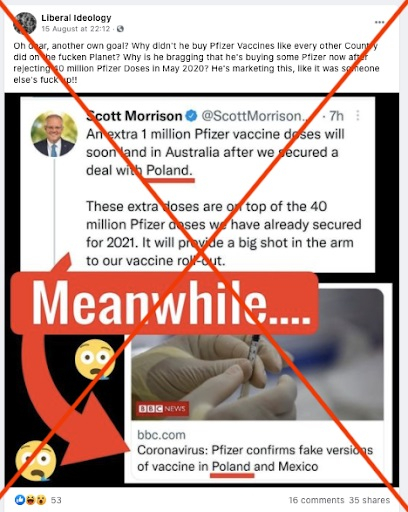 A screenshot of the misleading post as of August 25, 2021
Comments to the post indicate social media users were misled.
"Don't you wish you had got AZ when you had the chance," wrote one, referring to AstraZeneca jabs also administered in Australia.
The photo collage was also shared on Facebook here and here.
These posts are misleading.
Misrepresented report
Keyword searches found the BBC report shown in the photo collage was published here on April 22.
The report states that Pfizer found counterfeit versions of its Covid-19 vaccine in Poland which are believed to be anti-wrinkle treatment.
However, the report adds: "Poland's health minister on Wednesday stressed that the risk of counterfeit doses appearing in official circulation was 'practically non-existent'."
"Polish authorities said no one had received counterfeit doses seized at a man's apartment."
According to this Polish-language report, Health Minister Adam Niedzielski said in April: "In our opinion, the risk of any counterfeit vaccines entering official circulation is practically non-existent."
"There's the mitigating activity of both state purchasing and distribution of these vaccines. All certified products go to vaccination points and the entire logistics chain is built in such a way as to ensure safety that no counterfeit vaccines will enter official circulation."
A Polish-speaking AFP journalist conducted further keyword searches and found no other reports about fake vaccines had been published since April.
'Satisfactory for release'
Australia's Therapeutic Goods Administration, the country's drug regulator, confirmed in a statement on August 16 that the batch of Pfizer-BioNTech doses that arrived from Poland were genuine.
"The Therapeutic Goods Administration (TGA) has today approved for release doses of the Pfizer/BioNTech vaccine that arrived in Australia late last night from the Republic of Poland," the statement read.
"The TGA has reviewed all batch release and transportation / cold chain documentation as satisfactory for release."