This is actually a 2012 Associated Press photograph of Afghans offering Eid prayers
Multiple Facebook posts claim a photo of men praying in a field shows Taliban fighters in Afghanistan offering thanks after the fall of Kabul. The claim is false: the photo is actually a 2012 Associated Press image which shows Eid prayers in Afghanistan.
The image shows people in Afghan traditional dress offering prayers in an open field.
It has been shared widely on Facebook, including here on August 16, 2021.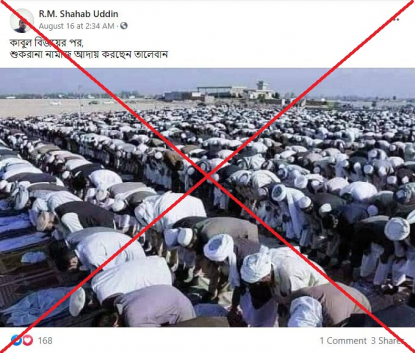 ( Mohammad MAZED)
The post's Bangla-language caption translates to English as: ''After the conquest of Kabul, The Taliban are performing Shukrana prayers [prayers of gratitude].''
The image circulated online after Taliban fighters took control of the Afghan capital Kabul, ousting the US-backed government, on August 15, 2021, as AFP reported here.
The photo has also been posted here, here and here on Facebook alongside a similar claim.
However, the claim is false.
A Google reverse image search found the photo was actually taken by US news agency the Associated Press in 2012.
It can be seen in the AP's online archive here.
The photo was taken by AP photographer Rahmat Gul in Jalalabad, Afghanistan, on October 26, 2012.
( Mohammad MAZED)
The photo's caption reads: "Afghans offer Eid al-Adha prayers outside a mosque in the outskirt of Jalalabad east of Kabul, Afghanistan, Friday, Oct. 26, 2012".
Below is a screenshot of the photo in the misleading Facebook post and the photo in AP's archive:
The photo was also featured in this report by American magazine The Atlantic published on November 2, 2012.