This video surfaced online years before the Taliban took control of Afghanistan
As the Taliban took back power in Afghanistan in August 2021, a video circulated on Facebook and Twitter alongside a claim it shows a commander's message "after liberating" the capital Kabul. But these posts are misleading: the video predates the Taliban takeover of Afghanistan in 2021 and has circulated in reports since at least October 2016.
The video was posted here on Twitter on August 16, 2021.
Its Urdu-language caption translates in part: "Taliban commander's message for Pakistanis after liberating Kabul: 'Our country Afghanistan has been destroyed by Pakistan. Every destruction in our country is Pakistan's fault. This time we won't be deceived by you. Our country was not destroyed by America but you.'"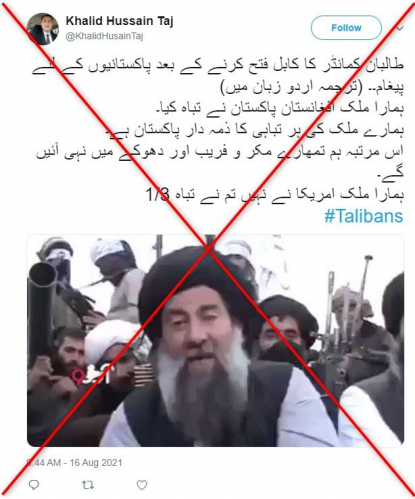 Screenshot of the misleading post. Taken on August 20, 2021.
The video circulated online after the Taliban took back power in Afghanistan and swept into the capital Kabul in August 2021, AFP reported.
The same video alongside a similar claim has also been shared in Twitter posts here, here, here and here; and on Facebook here, here, here and here.
But these posts are misleading: the video predates the Taliban takeover of Afghanistan in August 2021.
A reverse image search of the video's keyframes found it corresponds to a portion of the video posted here by Afghan media organisation Tolo News on October 20, 2016.
The report reads in part: "A dissident Taliban faction led by Mullah Abdul Manan Niazi on Wednesday said that Pakistan made deliberate attempts to take the Afghan peace process hostage, adding that Taliban will no longer take directions from the Pakistani military generals.
"Referring to a recent peace agreement signed between the Afghan government and Gulbuddin Hekmatyar-led Hizb-e-Islami party, Niazi called the move a plot by Pakistan."
Gulbuddin Hekmatyar, a former prime minister and one of the most notorious warlords in Afghanistan's history, signed a peace agreement with Kabul in 2016, AFP reported.
At the time, he was believed to be in hiding in Pakistan, though his group claimed he was inside Afghanistan, the report added.
Below is a screenshot comparison of the video in the misleading posts (L) with video from the 2016 Tolo News report (R):
Screenshot comparison
The video was also shared here on Facebook with similar details on October 19, 2016.
According to reports by Afghan media outlets Salaam Times and Gandhara, Niazi died due to injuries from an attack in May 2021.