Posts falsely claim Kadhafi 'predicted the Covid-19 pandemic'
A claim has been shared widely on Facebook, Twitter and YouTube that the late Libyan leader Moamer Kadhafi predicted the Covid-19 pandemic. The posts, which included an image of Kadhafi speaking at the United Nations in 2009, cite a comment he purportedly made: "They will create the viruses themselves and sell you the antidotes." The claim is misleading: the posts have misquoted Kadhafi 's 2009 speech.
The claim was shared alongside an image posted here on Facebook on March 20, 2020.
The caption reads: "CORONA VIRUS AND GADDAFI PREDICTION".
Screenshot of the misleading post, taken on August 20, 2021
The text superimposed on the image reads: "'They will create the viruses themselves and sell you the antidotes. Thereafter, they will pretend to take time to find the solution when they already have it. 'Muammar Gaddafi".
Muammar Gaddafi, or Moamer Kadhafi, was a Libyan dictator who ruled from 1969 to 2011.
In 2011, during the wider Arab Spring movement, he refused to hand over power during public protests. This led to the outbreak of a civil war. He was shot dead in October 2011.
Covid-19 was first reported in late December 2019 and declared a pandemic in March 2020.
A similar claim was also shared on Facebook in here, here and here, usually referencing Kadhafi's speech in 2009.
It was also shared here on Twitter and here on YouTube.
Similar posts have circulated in other languages, including Spanish, Serbian, Polish and Romanian.
The claim, however, is misleading.
United Nations speech
Kadhafi's speech at the 64th United Nations General Assembly on September 23, 2009, was the first time he had addressed UN members in four decades.
The speech — which lasted about 90 minutes — called for a reform of the Security Council, one of the six main organs of the UN.
The official speech transcript was published here in an official UN document. The transcript begins on page 15.
The misleading posts have misquoted part of Kadhafi's speech.
His original comments about viruses can be seen on page 26 of the transcript, as shown below, with relevant parts highlighted by AFP: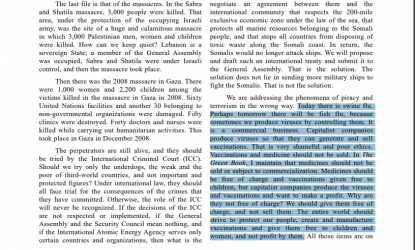 A screenshot of the transcript for Gaddafi's speech on the UN's website ( AFP / )
In this section of the speech, Kadhafi argued medicines and vaccines should be made freely available around the world. He went on to criticise what he saw as "capitalist companies" profiting from vaccines.
He also referenced The Green Book, his self-penned political philosophy, in which he rejected capitalism and appeared to embrace Marxist ideology.
He stated: "Today there is swine flu. Perhaps tomorrow there will be fish flu, because sometimes we produce viruses by controlling them.
"It is a commercial business. Capitalist companies produce viruses so that they can generate and sell vaccinations. That is very shameful and poor ethics. Vaccinations and medicine should not be sold.
"In The Green Book, I maintain that medicines should not be sold or subject to commercialization. Medicines should be free of charge and vaccinations given free to children, but capitalist companies produce the viruses and vaccinations and want to make a profit. Why are they not free of charge? We should give them free of charge, and not sell them.
"The entire world should strive to protect our people, create and manufacture vaccinations and give them free to children and women, and not profit by them."
The swine flu or influenza (H1N1) virus, first detected in April 2009, was declared a pandemic by the World Health Organization from June 2009 until August 2010.