This photo does not show Lionel Messi fans in Paris, but rather concertgoers in the US
Following the arrival of Argentinian football star Lionel Messi in Paris to sign a contract with French club Paris Saint-Germain (PSG), numerous social media posts are sharing an image of a dense crowd with claims it shows PSG fans welcoming Messi. However, the claim is false: the photo was taken during a music festival in the US in July.
A Facebook post featuring the aerial shot of a large crowd has been shared more than 800 times since August 10, 2021.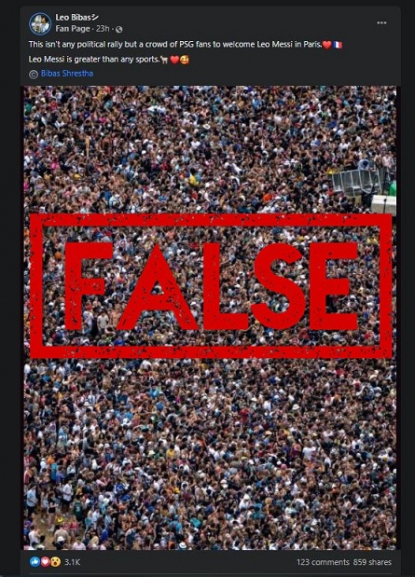 Screenshot taken on August 11, 2021, showing the false Facebook post
"This isn't any political rally but a crowd of PSG fans to welcome Leo Messi in Paris," reads the post's caption. "Leo Messi is greater than any sports."
The same claim was also shared in other Facebook posts, including here and here.
It has also been shared in Arabic, which AFP Fact Check debunked here. 
Messi fever sweeps Paris
The claim emerged on social media after PSG supporters gathered at Le Bourget airport to the north of Paris to welcome Messi on August 10, 2021.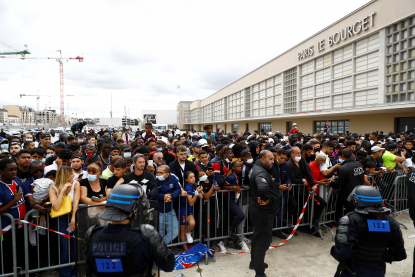 Supporters stand behind a fence to greet Argentinian football player Lionel Messi on August 10, 2021, at Le Bourget airport ( AFP / Sameer Al-DOUMY)
The 34-year-old footballer signed a two-year renewable contract with PSG following his departure from Barcelona, where he played for 21 years. 
While the Argentinian superstar indeed received a royal reception from the moment his plane landed at the airport, the photo accompanying the claim is old and unrelated to his arrival in Paris.
Photo taken in the US
AFP Fact Check ran a Google reverse image search and traced the photo to a tweet published on July 31, 2021, more than a week before Messi's tearful farewell to Barcelona.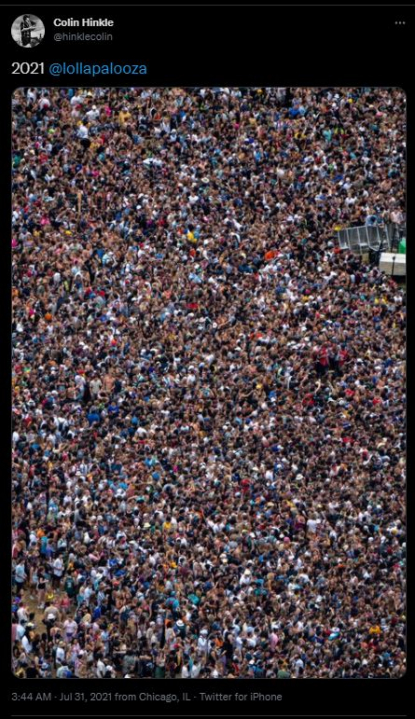 Screenshot taken on August 12, 2021, showing the tweet
The photo was tweeted by American photographer Colin Hinkle, who said that it was taken during the Lollapalooza music festival in Chicago.
"That's actually shot off the balcony of where I live. I live in a 52nd floor of a building that faces Grant Park, and directly over top of Lollapalooza (sic)," Hinkle told Business Insider.
Other photos taken at Lollapalooza show similar scenes (see here and here). 
Hinkle's photo was shared widely in the United States due to concerns about the dense, maskless crowd as the Delta variant of the coronavirus spreads across the nation. In a tweet, Lollapalooza organisers said that attendees showed proof of vaccination or negative Covid-19 tests.